William Dargue  A History of BIRMINGHAM Places & Placenames from A to Y
Bacons End
B37 - Grid reference SP178879
First record 1377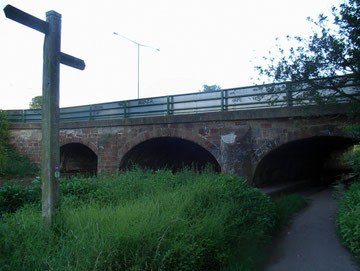 On the eastern edge of Chelmsley Wood lies Bacons End. The name is used to describe the road junction of the Chester Road and Cooks Lane and the small district within the loop of Forth Drive and Clopton Crescent which was built up during the 1970s.

The name itself goes back to the 14th century. In 1377 strips of arable farmland here were held by John Bacon in an open field known as Holifast. The medieval term fast actually meant a 'stronghold', but here it probably just denoted a field enclosed by an embankment of holly trees. This enclosure lay south of Cooks Lane on the banks of the River Cole, and Bacon himself must surely have lived close by.

By the 18th century John Bacon's strips had been consolidated with others into a field known as Bacons Leasowe, which lay within the crook of the river where it starts to change its course from east-west to south-north. A leasowe was pasture for grazing livestock and here it lay on the well-watered alluvial ground which grew lush with grass throughout the year. Sheep and cattle were a more profitable investment than crops.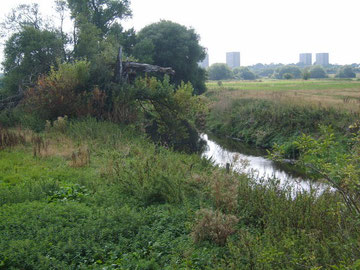 In the 19th century the buildings of Bacons End Farm stood on the west side of the Chester Road, south of the Junction, while Bacons End Bridge was the crossing of the River Cole about half a mile further south. The medieval bridge was remodelled in 1764, and it is thought that some of the medieval structure remains within the present bridge. The bridge was remodelled again in 1925, when it was also known as Jonnie Warner's Bridge, and again in 1970 when the Chester Road was made into a dual carriageway.
Right: River scene - Photograph taken from Coleshill Hall Bridge, the tower blocks are in Chelmsley Wood.
Below: Cows grazing - Photograph taken from Coleshill Hall Bridge on Birmingham Road looking towards Bacons End.
Both photographs copyright © Carl Baker, licensed for reuse under a Creative Commons License. Geograph OS reference SP1888
Bacons End now marks the end of the linear country park, Project Kingfisher, part of a green corridor which follows the course of the River Cole across the city.
The river continues to meander across the flat land between the M6 and M42 motorways on its way past Coleshill where its waters join first the Blythe which then join the River Trent before flowing out with the River Humber into the North Sea.
William Dargue 03.09.2008/ 30.07.2010