William Dargue  A History of BIRMINGHAM Places & Placenames from A to Y
The Clock
B36 - Grid reference SP138893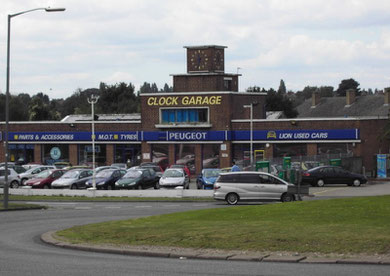 Mill Hill, on the Old Chester Road at Castle Bromwich, climbed from the ford across the River Tame up to St Mary & St Margaret's Church. It was then a steep incline up which travellers had struggled from prehistoric times.
When the west part of Castle Bromwich amalgamated with Birmingham in the 1930s, Bradford Road and Newport Road were laid out designed as a lengthier but more gently sloping by-pass of the old Castle Bromwich village. The former is named after the Bridgeman family, the Earls of Bradford who bought the manor in 1657, the latter from the title of the Bradford heir.

The Clock Garage was built around this time. In some places blacksmiths had turned their skills from servicing the needs of horses to car maintenance, and some present day garages and service stations date from this change.
However, a number of present day garages were purpose-built at significant road junctions on Birmingham's arterial roads, notably where they crossed the Outer Circle bus route. This junction, some distance from the Outer Circle, is still known as The Clock after the prominent clock on the garage building. Although the service station remains open, the car sales at the Clock Garage closed in 2010 and the buildings were demolished two years later.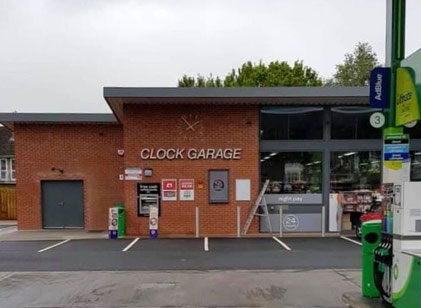 The author has received an email from Robert Darlaston, formerly of Stechford Road, Hodge Hill, describing the original road junction at the Clock:
I would guess that the Clock Garage was built about 1948-49. 1950 at the latest. I can't remember what was there before - probably unused open land behind hedges. The garage may well have been planned when Newport Road was built, but so many things went on 'hold' during the war and had to wait until restrictions were eased afterwards.
Do you remember the 'Clock' junction before the roundabout was built? It was a strange layout by today's standards: a huge triangular island with bi-directional roads on each side. Thus, when travelling from Newport Road towards Hodge Hill Common traffic had first to turn right across traffic coming down from Castle Bromwich towards Erdington, before getting onto the 'bottom' side of the triangle, and then queue to cross traffic from B'ham to Castle Bromwich before getting into Coleshill Road! There was a wonderful line of huge trees on the south side of the triangle: when they were removed the residents of the houses opposite must have been very upset.
From 1950 the 56 bus terminus was on the triangular island which buses travelled round in an anti-clockwise direction! Buses from city went straight up as if going to Castle Bromwich. They waited at the stop beneth the trees, then proceeded a few yards further, turned sharp left as if going to Erdington, then sharp left again onto the bottom side of the triangle in order to face Birmingham!
William Dargue 02.11.2008/ 21.10.2020