William Dargue  A History of BIRMINGHAM Places & Placenames from A to Y
Fox & Dogs Inn
B75 - Grid reference SP123987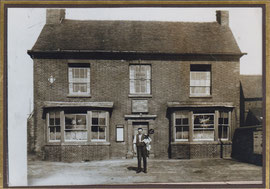 The name of the inn here was used as the name of the hamlet at the junction of Mere Green Road and Little Sutton Road to the north-east of Sutton Coldfield. The 1861 Census shows Samuel Langley to have been the publican. 
The Fox & Dogs in 1915. Thanks to David Fowler for permission to use this photograph which is believed to show an ancestor of his uncle, Arthur Bullock. All Rights Reserved.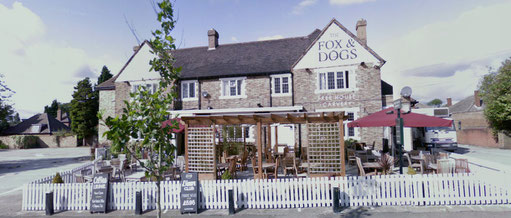 There were two small farms in this rural area, one of 7 acres (c3ha) and another of just 1 acre (c0.5ha); a grocer/ market gardener lived here and an agricultural labourer and his wife. The area remained rural until after World War 2, and is now considered part of Mere Green. The Fox & Dogs Inn is shown on the 1889 Ordnance Survey map, was rebuilt in the second half of the 20th century, has been much extended and is still a thriving pub to this day.
Foxes have always been the enemies of livestock farmers. 'Official' hunting of foxes began in the Middles Ages when deer were hunted by royalty and by the nobility for sport and for food from the Middle Ages and other people were given or bought permission to hunt other animals considered to be detrimental to deer hunting. These 'beasts of the chase' included rabbits and hares, wild cats, badgers and squirrels and also foxes. The earliest recorded hunt with hounds was in Norfolk in 1534 when farmers were hunting foxes with dogs to protect their livestock. Packs of trained hunting dogs were in existence by the late 1600s.

During the 18th century dogs and horses were bred specifically for hunting. During the 19th century shotguns were improved and used for shooting game and for killing foxes for both pest control and for sport. As pheasant hunting became popular gamekeepers hunted foxes almost to extinction in some areas. This caused those who hunted foxes for sport to create coverts where foxes could breed in safety until their time came to be hunted. During the 20th century fox-hunting as a sport was always controversial. The Hunting Act of 2004 outlawed hunting with dogs in England and Wales.
William Dargue 11.01.2009/ 02.08.2010