William Dargue  A History of BIRMINGHAM Places & Placenames from A to Y
Fox Hill
B75 - Grid reference SP139986
On the eastern edge of Sutton Coldfield this is the hill that rises up from the Tamworth Road to Fox Hill Road. On Fox Hill Road stands Fox Hill House, also known as Fiddlers Hall. This was the home of one John Valentine who set up a pottery business here, which failed. The ruined beehive kiln still stands 100m west of the house. (Valentine's brother was known for composing the 'folk' song, 'All Around My Hat'.)
From at least 1841 Fox Hill House was at the centre of a 66-acre (c30ha) farm. This early Victorian house is Grade II Listed as is the kiln. Fox Hill Farm lies to the west on Weeford Road. It is now an arts & crafts centre.
The origin of the name is unknown and may derive from a surname as at Fox Hollies near Acocks Green. However, the fox is so commonly found in placenames across the country from Anglo-Saxon and medieval times that it is likely to be the animal that is referred to here.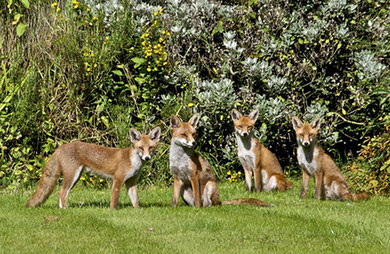 Foxes are found throughout the country in a wide variety of habitats but thrive best in a mixture of woodland, pasture and arable which provides a range of food types and locations for resting and making dens. They are sometimes seen during the day, but are mainly active at dusk and at night.
Commonly described as carnivores, foxes actually eat a wide variety of foods, including small mammals, birds, insects and plants. They will scavenge anything edible, which is why, especially with the introduction of the bin bag for refuse collecting, they have been successful in colonising urban areas. Foxes are known occasionally to kill large numbers of easy prey such as domestic hens and will often bury excess food in a larder.

With its reddish coat and long bushy tail, the fox is a readily recognisable member of the dog family. Foxes scent-mark their territory by anal gland secretions, urine and faeces which have a very distinctive smell even to humans. And during the breeding season their screeching calls can be heard from a long distance. Foxes usually have a main den or earth for breeding with other dens not too far away. They dig their own dens but will also reuse old rabbit burrows.

Before the industrial age the habits of foxes and the locations of their dens would have been very well known to country dwellers. Foxes on Fox Hill would have been a frequent sight for hundreds of years, and may still be.
It is possible that the name derives from the enclosures of Sutton's heaths and common land in the 1820s. Extensive tracts of open land were enclosed as small individual fields surrounded by hedgerows. Gorse patches, often the natural cover for foxes, were removed by the new owners. In order to maintain the fox population, hunting landlords created artificial spinneys of perhaps a hectare in size, though some were ten times that area. They would be planted with gorse or trees and were sometimes to be found in odd corners of estates which were difficult to use for any other purpose. These fox coverts are most common in the east Midlands. There is a stretch of linear woodland associated with Moor Hall which runs southwards from Fox Hill Farm along Weeford Road and another running east-west across the Tamworth Road near Ashfurlong Hall. 
 
The rural east of Sutton is of interest to Birmingham archaeologists as it represents a large area within the City boundary that remains relatively undeveloped. Surveys of the area by members of the Birmingham & Warwickshire Archaeological Society began in 1995. In an examination of aerial photographs crop marks were noted which seem to show field boundaries at Fox Hill. These may well date from the late Bronze Age or the Iron Age.

In the 18th century this was a remote area where travellers were always in fear of highway robbery. Somewhere on Fox Hill stood a gibbet which would hold the tarred remains of the last person to be caught and hanged for the crime as a deterrent to others. (See also Gibbet Hill.)
In 1807 a turnpike was set up from Sutton Coldfield to Bassetts Pole (for Tamworth). This is the present Tamworth Road. There was a toll gate at the beginning of the road on the Lichfield Road and another where Tamworth Road meets Fox Hill Road. Colletts Brook Farm here was originally the tollhouse. Currently in a poor state, the building is Grade II Listed. The road was disturnpiked in 1872.
See also Little Sutton.
William Dargue 20.12.2008/ 01.08.2010