William Dargue  A History of BIRMINGHAM Places & Placenames from A to Y
The Flat
B18 Grid reference SP057883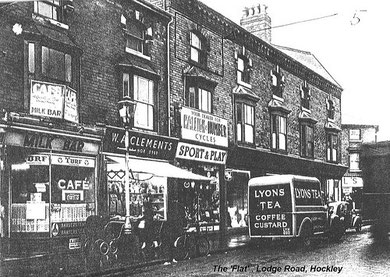 The Flat was a local name given to a group of shops on Lodge Road, Hockley near the junction with Heaton Street. 
Phil Mansell, writing in 2000, remembered:
'the part of Lodge Road that comprised 200 yards of busy shops and was popularly nicknamed "The Flat". It was a very busy shopping centre with about seven butchers (including the Co-op, two branches of Burley's and Walter Smith's).
There were a couple of baker's shops, a large Woolworth's, two large, open-fronted greengrocer's (Spencer's and Griffin's), Yardley's drapery, Sutcliffe's record store (where I bought my Beatles LPs on the first day of release) and Norton's department store. It was a small shopping area compared with, say, The Main Road (Soho Road) but was always busy.' 
John Ball wrote:
'It was the only part of Lodge Road that was on the level. All the rest of Lodge Road was hilly. From the Winson Green Road / Handsworth New Road end, Lodge Road went downhill as far as Devonshire Street. Then it climbed uphill to the bridge over the canal wharf by Tinegate's timber yard.
There was a Victorian cast-iron gents urinal on the bridge over the canal - you could see inside from the top of the tram or bus!! I always suspected the urinal drained directly into the canal!! Then Lodge Road went downhill, past Scribban's the baker's until the junction with Park Road and Ford Street after which it became "The Flat".'
The shops here still exist, though the old housing around them has largely been replaced. However, many shops are now unoccupied and boarded up. This is not the vibrant shopping centre it once was. 
(Coincidentally, at the other end of Park Road was Nineveh Road. In one direction, Nineveh Road climbed uphill to meet the "Main Road" opposite Grove Lane (and HGS!). In the other direction, Nineveh Road ran along the level to meet Handsworth New Road and Boulton Road. We used to call the level part of Nineveh Road "Flat Nineveh".' John Ball) 
See also Nineveh. 
Text by Phil Mansell and John Ball, slightly edited, taken from the Rootsweb site - See Acknowledgements.
William Dargue 07.06.2010/ 02.08.2010