William Dargue  A History of BIRMINGHAM Places & Placenames from A to Y
The Fox & Goose
B8 - Grid reference SP124884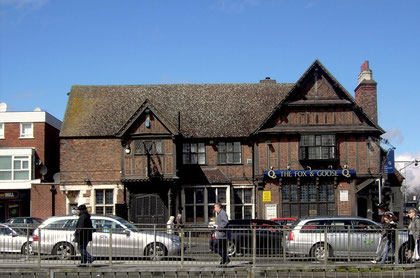 The Fox & Goose public house stands on Washwood Heath Road at the eastern limit of Ward End. It is located on what was always a busy regional route, leading from Birmingham to Castle Bromwich (for the Chester turnpike) and to Coleshill. The inn stood at the junction with Bromford Lane, an ancient route leading from Yardley to Erdington.
Formerly known as the Golden Cross, it was a coaching inn known to have been in existence from at least 1680. The origin of its earlier name may simply relate to its position at a crossroads and the fact that the inn sign was painted gold. It is not an uncommon pub name.
It is not known why the name was changed, but the Ordnance Survey map of 1887 shows it as the Fox & Goose Hotel. This is a common pub name and may relate to medieval tales about Reynard the Fox. Reynard sometimes represented the devil in his hunt for human souls, sometimes he is representative of the clergy leading their parishioners away to be devoured.  The name may also derive from 'Fox & Geese', an ancient board game somewhat similar to draughts, which was certainly played in pubs
The pub was rebuilt in a Tudor style in 1913 by Birmingham architect Holland W Hobbis at a time when this location lay well beyond the urban area of Birmingham. 
The pub has given its name to the road junction and local shopping centre.
Click to enlarge the images in the Gallery below.
William Dargue 18.12.2008/ 11.01.09/ 02.08.2010