William Dargue  A History of BIRMINGHAM Places & Placenames from A to Y
Moor End/ Moor End Green
B24 - Grid reference SP115917
More Grene: first record 13th century, le More end 1461
Mere Green is shown on the 1834 Ordnance Survey map around Moor End Lane; Moor End Green appears to be a little further east off Spring Lane. Neither name is any longer in use in this area. The name originates from Old English mor green meaning 'marshy common pasture' describing land which may have been unusable bog in winter, but which provided lush summer grazing. A small stream ran across what is now the recreation field and down to the River Tame where Fort Dunlop is now. The stream was culverted after 1921. 'End' usually signifies a location at the extremity of a unit of land eg. a parish, manor or quarter, perhaps here a tiny hamlet beyond the village of Erdington.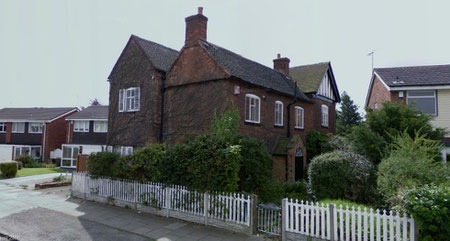 Take a look. Standing in Moor End Lane is Poplar Cottage, a late-18th-century brick-built house of three storeys. It was doubled in size c1850 in similar style and a wing added c1900 with mock timber-framing.
This was a rural area until the end of the 19th century. The 1891 Census lists the occupants as Thomas Thorley and his family as living here. His occupation was farmer/ milk seller, and he had people in his employ. 
Although a grid of streets had been laid out during the 1880s, housing development in this area was far from complete at the turn of the century.
See also Mere Green.
William Dargue 06.04.2009/ 23.07.2012