William Dargue  A History of BIRMINGHAM Places & Placenames from A to Y
Perry Hill
B68 - Grid reference SO998852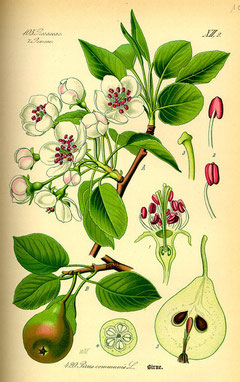 Recalled in Perry Hill Road, this hill rises up from Quinton. Its name derives from the Old English word pirige meaning 'pear tree'.
Numerous subspecies of wild pear grow in cool temperate climates across the Old World and the species has been cultivated for thousands of years. Two wild subspecies are found throughout Europe growing naturally in forests and woods. The wild English pear may not be native and could derive from the seed of a cultivated pear dropped by bird or man. Court accounts of Henry III show that pears were imported from France. Indeed the names of pears grown in England in the Middle Ages suggest a French origin.
In some places it was the custom to plant a fruit tree to mark the birth of a child, an apple for a boy, a pear for a girl. The longevity and fecundity of the trees were thought to ensure a long marriage and many children.
Left: Images of the cultivated European pear, Pyrus communis from Otto Wilhelm Thomé 1885 Flora von Deutschland Österreich und der Schweiz (Flora of Germany and Switzerland) © Kurt Stueber 2007 downloaded from the Virtuellen Biologischen Bibliothek (Virtual Biology Library) at www.biolib.de and reusable under the GNU Free Document License.
William Dargue 25.05.2009 / 31.07.2010