William Dargue  A History of BIRMINGHAM Places & Placenames from A to Y
Queslett
B44 - Grid reference SP061946
Quieslade: first record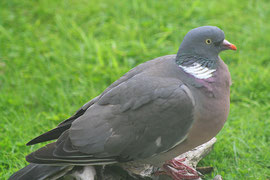 This was 'wood-pigeon valley'. First documented as Quieslade, the name derives from the late Middle English word queest meaning 'wood pigeon'. Also known in the Middle Ages as the woodquest, the resident European ringdove, columba palumbus has never had any farming friends, feeding as it does on the newly sown seeds, young shoots, mature plants and the ripening harvest. With its widely varied diet, the wood-pigeon is currently reckoned as the farming industry's most serious bird pest.
The situation can have been no different in medieval England. From the invention of agriculture until well after the days of compulsory schooling, young children were paid a pittance to patrol the fields scaring birds using small stones as ammunition. A slade is a 'small, usually boggy valley'.
Queslett is shown as a rural hamlet in the manor of Perry on the 1st Edition Ordnance Survey map of 1834 at the junction of Aldridge Road, Beacon Road and Queslett Road. The Holbrook runs north to south in the valley west of the Aldridge Road and down to the River Tame. The hamlet lay within the ancient parish of Handsworth.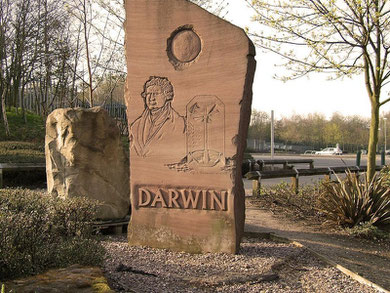 The Moonstones
At the junction of Aldridge Road and Queslett Road at the supermarket are The Moonstones, a set of memorials to members of the Lunar Society. Designed by Steve Field and carved by stone masons, Malcolm Sier and Michael Scheurmann in 1998, they depict eight members of the Lunar Society: Josiah Wedgwood, Erasmus Darwin, Samuel Galton, William Murdock, Matthew Boulton, James Watt, Joseph Priestley, James Keir and William Withering, each bearing something to represent their interests and achievements.
Each stone shows a different phase of the moon: the Lunar Society met at one another's houses at full moon, so they could talk late and find their way home in the moonlight. Nearby Great Barr Hall was Galton's home, one of the venues for their meetings. See Great Barr.
William Dargue 15.03.2009