William Dargue  A History of BIRMINGHAM Places & Placenames from A to Y
Roman Field
B44 - Grid reference SP078937
As Kingstanding Road heads north after College Road, it follows the route of the Roman Icknield Street, an important road that linked the south-west of England with the north-east.
In the early 19th century a number of coins were found near the junction with Warren Farm Road at a place subsequently known as Roman Field. The trove included a variety of coins of the emperors Domitian (81-96 AD), Trajan (96-117), Hadrian (117-138), Antoninus Pius (138-161), Marcus Aurelius (161-180), Lucius Verus (161-169). They were thus hidden after the year 169, though what impending danger led to their burial and subsequent loss cannot now be determined. In 1884 the coins were in the possession of Birmingham surgeon, Mr Shirley Feilding Palmer, but their present whereabouts is unknown.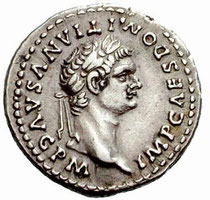 Left: A denarius of Domitian downloaded from Wikipedia photographed by Rasiel Suarez.
Permission is granted to copy, distribute and/or modify this image under the terms of the GNU Free Documentation License, Version 1.2.
William Dargue 14.03.2009/ 23.05.2009