Washwood/ Washwood Heath
B8 - Grid reference SP103888
Wasshewode: first record 1454
The Wash Brook is the stream that runs alongside Ward End Park and is thereafter culverted to its confluence with the River Tame. Its name derives from Old English gewaesc and means 'ground washed over by water' ie. land susceptible to flooding. To this was added 'wood' though the location of that wood is unknown.
A detailed map of Aston manor in 1833 shows no remaining evidence of a wood though logic suggests that it lay west of Wash Brook, for the heath around Warren Road, Washwood Heath Road and Highfield Road was subsequently named after the wood.
Heath was poorer quality agricultural land probably used only for common pasture. With advancing agricultural technology and an increasing population there was a concerted drive encouraged by the government to enclose such 'wastes' and make them productive. Washwood Heath was enclosed in 1817.

In 1760 the Castle Bromwich (Coleshill) Turnpike cut through the district. The old road to Coleshill had run from the Rea ford, now replaced by Saltley Viaduct, along Alum Rock Road to Stechford Road. The heathland across Washwood Heath must have made for better travel. This is land on well-drained glacial drift. There was a large gravel pit north of Phillimore Road until the end of the 19th century. Where the route crossed the Wash Brook the ford was paved and later a hump-backed bridge was built. The river is now culverted beyond this point and barely noticeable.

During the 18th century a gibbet stood at Washwood Heath. Although its site is unknown, it may have been near the junction of Washwood Heath Road and Aston Church Road, this being the highest point in the area. A public hanging of eight men at these gallows attracted 100 000 people in 1802. As was the custom the tarred bodies were left to hang in irons, a constant warning to potential law-breakers.

The area did not become fully urbanised until the 20th century; as late as c1900 the stray animal pound still stood near the corner of Common Lane. In the 18th and 19th centuries this was an attractive rural district looking across the Rea valley towards Birmingham. On Washwood Heath Road near Hutton Road was Red Hill House, a plain neo-classical country house built by William Hutton in 1769 on an attractive spot at Bennetts Hill which he had often passed en route to his home town of Derby. Red Hill was burned during the 1791 Birmingham Riots. Hutton's son built Bennetts Hill House opposite which was occupied by Birmingham Councillor Herrick from 1900 until its demolition in the 1930s.

By 1834 a scattered ribbon of middle-class development grew up along Washwood Heath Road as far as Ward End. By 1906 Saltley was built up as far as Highfield Road, but apart for some infilling, Washwood Heath still remained rural and undeveloped. However, the building of the railway works along the Birmingham & Derby Railway and the Wolseley car factory nearby led to the building of large numbers of working-class houses off Washwood Heath Road. Some Victorian houses survive in Washwood Heath, though much of the housing here is early 20th-century.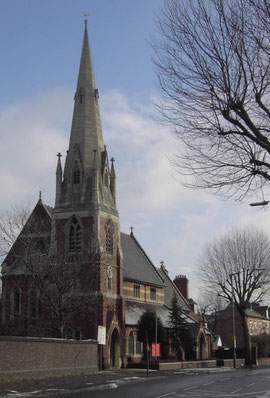 Urbanisation
With urbanisation came an Anglican church and a school. On Washwood Heath Road near Leigh Road stands St Mark's, a prominent red-brick building with white stone dressings and a distinctive landmark white stone spire. Designed by J A Chatwin in 1890, this was a chapel of St Saviour's, Saltley until it was assigned its own parish in 1907. Leigh Road Council School was opened in 1909 with accommodation for 1000 pupils.
Industrialisation

In 1913 the Electric & Ordnance Accessories Company, a subsidiary of Vickers built a factory between Common Lane and Drews Lane. During the 19th century there had been extensive clay pits and brick works on the site. Known as the Ward End Works, the plant's distinctive office block is Bromford House, some 125m long fronting Drews Lane. During World War 1 1914-1918, the factory produced munitions, but was actually designed as a car plant to assemble the Wolseley Stellite.

In the 1920s Wolseley was bought out by William Morris who moved his car assembly from the Adderley Park plant, which then became the Morris Commercial, to Ward End. Morris Minor engines were produced here in the 1930s alongside Wolsley cars.

During World War 2 1939-1945 tanks, military vehicles and mines were made at the plant as well as Horsa gliders. The factory was a prime military target and was badly damaged by German bombing raids in 1941 and 1942.

With the formation of the British Leyland Motor Company BLMC the Ward End Works became the Austin Morris transmission plant. The Morris Commercial at Adderley Park closed in 1972 and all vehicle production was then moved to Ward End. In 1989 BLMC's Freight-Rover became Leyland-DAF Vans, which became LDV Limited in 1993. Bought by a Russian company in 2006 the plant manufactured a range of light commercial vehicles until bancruptcy three years later. The site has now been cleared, much of it to be used as the maintenance depot for the HS2 London-Birmingham railway line. 
Below left: Leigh Road School.
Image downloaded from Geograph OS reference SP1088 © Copyright David Stowell and licensed for reuse under Creative Commons Licence Attribution-Share Alike 2.0 Generic. 
Below centre: Bromford House, former LDV headquarters
Below right: houses on Warren Road (east end) - image from Google Maps Streetview 2020
Click to enlarge.
William Dargue 27.02.09/ 02.05.2013/ 18.01.2021