Villa Cross
B19 - Grid reference SP058894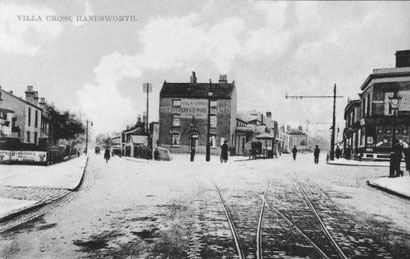 Villa Cross, Handsworth is the junction of Heathfield Road, Villa Road and Lozells Road. The crossroads was shown on the 1st Series Ordnance Survey map of 1834 as Aston Villa.
By 1891 the road from the Heathfield Road/ Lozells Road junction to Soho Hill/ Soho Road was known as Villa Cross. It is now called Villa Road. The origin of the name is uncertain, but it is likely to be an artificial creation by a house builder or owner..
The map resulting from John Tomlinson's 1758 survey of Aston marks Gallow or Callow Hills immediately north-west of the junction. The Old English word calu, 'callow' means bare indicating that the land here was probably freely draining glacial drift. It is unlikely to have been good agricultural land.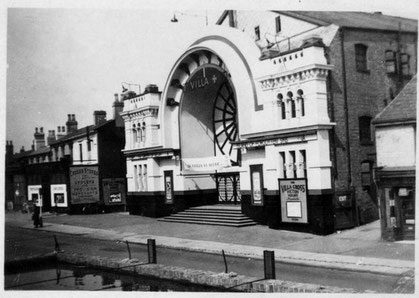 The Villa Cross Tavern (above) stood at the junction between Lozells Road and Heathfield Road. It was certainly there in 1879 by that name and may date from the first half of the 19th century. The pub was closed after the Handsworth Riots of 1985.
The New Picture House, later the Villa Cross Picture Palace, opened in 1912. It was built in the neo-classical style of an 18th-century non-conformist chapel and had a very large rose window filling the upper part of the round-arched doorway.
It closed in 1970 as part of the Rank Organisation, re-opened as an Asian cinema for a time and was for some years a bingo club. During the Handsworth riots of 1985 the building was badly damaged by an arson attack and demolished in 1989.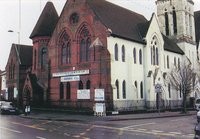 On the corner of George Street and Lozells Road a Wesleyan Methodist chapel was built in 1865. Aston Villa football club was formed by members of the Villa Cross Wesleyan Chapel cricket team, who were looking for a sport to play during the winter months.
In 1962 the church building was bought by the New Testament Church of God, a Christian church of Caribbean origin. The building was demolished in 2007 to make way for a new church centre with extensive community facilities.
Villa Cross Wesleyan Chapel, now demolished. Image reproduced courtesy of New Testament Church of God.