Ulverley/ Wolverley, Ulverley Green
B92 - Grid reference SP146825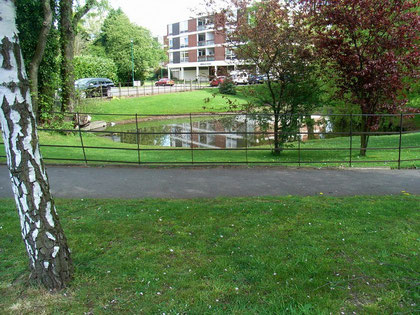 Beyond the City boundary in Solihull. the name of Ulverley derives from the Anglo-Saxon, 'Wulfhere's clearing' and is the former name of Olton. There was evidence of the moated manor house in William Hutton's time:
Four miles from Birmingham, upon the Warwick road, entering the parish of Solihull, in Castle-lane, is Ulverle, in doom's-day Ulverlei. Trifling as this place now seems, it must have been the manor-house of Solihull, under the Saxon heptarchy; but went to decay so long ago as the conquest. The manor was the property of the Earls of Mercia, but whether their residence is uncertain.
The traces of a moat yet remain, which are triangular, and encircle a wretched farm-house of no note: one of the angles of this moat is filled up, and become part of Castle-lane; which proves that Ulverley went into disuse when Hogg's-moat was erected: it also proves that the lane terminated here, which is about two hundred yards from the turnpike road. The great width of the lane, from the road to Ulverley, and the singular narrowness from thence to Hogg's-moat, is another proof of its prior antiquity.  
William Hutton 1783 An History of Birmingham
This is now the site of Chelmcote Road, where a pool still remains. A new and larger moated manor house was built not far away by William de Odingsells in the 12th century. See Olton.