William Dargue  A History of BIRMINGHAM Places & Placenames from A to Y
Easy Hill
B1 - Grid reference SP063869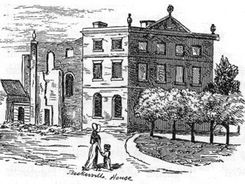 From the top of New Street towards Broad Street and Cambridge Street is a gentle slope on well-drained land which was known by the 18th century as Easy Hill. That part of Broad Street alongside Centenary Square is shown as Easy Hill on a map of 1792, but by 1840 it had taken its present name.

In 1745 Easy Hill was some way beyond the built-up town and it was here that John Baskerville built a house and workshops set in a large park. Baskerville carved tombstones and had a japanning business but he is best known as a printer of quality books and the inventor of the Baskerville font; he became Overseer and Surveyor of Birmingham Highways and High Bailiff of the Manor of Birmingham.
Baskerville built a windmill here some time after 1745 to carry out part of his paper or printing process, though it is not clear exactly what it was used for. A devout atheist, he left instructions in his will that he should be buried in unconsecrated ground beneath the 'conical building in my own premises heretofore used as a mill'.

Baskerville wrote his own epitaph, presumably it was carved in his own font:
Stranger,
Beneath this cone, in unconsecrated ground,
A friend to the liberties of mankind directed his body to be inurned.
May the example contribute to emancipate thy mind
From the idle fears of Superstition,
And the wicked Act of Priesthood!
In 1788 after the death of Baskerville's widow, an advertisement appeared in Aris's Gazette offering Easy Hill for sale. The house, which was described as being situated 'near Birmingham', was a large and elegant 3-storey building designed in Georgian classical style and set in the middle of an extensive park:
The Out Offices consist of a large kitchen, with Servant's Rooms over it, a Butler's and a Common pantry, - two Pumps, one hard and the other soft water, a four-stalled Stable, and a Coach House, a good Garden, with Green-House, and Garden House, spacious Warehouses and Workshops, suitable for the Mercantile Business or any extensive Manufactory, together with about seven acres of rich Pasture Land in high condition, part of which is laid out in Shady Walks, adorned with Shrubberies, Fish Ponds, and a Grotto; the whole in a Ring-Fence, the great part of it enclosed by a Brick-Wall, and is, on Account of its elevated situation and near affinity to the Canal, a very desirable spot to Build upon.
The house was bought by John Ryland and badly damaged in the 1791 Birmingham Riots, after which it was demolished.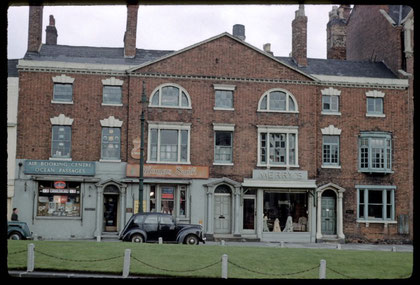 By 1812 the iron merchant, Thomas Gibson had bought the property in order to cut a canal arm from the Newhall Branch of the Birmingham Canal to provide access to his mill in Cambridge Street. Gibson was one to spot a business opportunity and soon expanded his operation cutting a number of arms between Cambridge Street and Broad Street known as the New Wharves. Being on a hill, the basins were higher than the canal and boats gained access via a deep lock into which water was pumped by steam engine. The New Wharves were soon almost totally covered over and enclosed with industrial buildings. There was a screw factory, copper works and lime wharf here. There were timber yards, coal wharves, a flour mill, a pin factory and a coach-builders. The canal arms were infilled in 1925 to make way for the Hall of Memory and gardens.

When the New Wharves were built, Baskerville's body was stored in a warehouse for several years before being removed to the crypt of Christ Church at the top of New Street. When that church was demolished in 1899, his body was again moved with the other bodies from the crypt to the catacombs of the Church of England Cemetery in Warstone Lane, where he lies still.

Baskerville House was built on the site of Baskerville's Easy Hill home in 1938 by T Cecil Howitt of Nottingham, one element in a new civic campus on a site twice the size of the present Centenary Square. The Masonic Hall of 1926 and the Birmingham Municipal Bank of 1931 on the other side of Braod Street also formed part of the scheme. The completion of Baskerville House was interrupted by the Second World War. It was originally intended that more council offices in the same style would surround the square. There would be a city hall and two public halls, a planetarium, a library, museum and art gallery. However, the economic climate after the war was not conducive to such large projects and the rest of the grand design was never built. The City Council used Baskerville House for various of its departments for over 50 years. The Council had vacated the building by 1999 and this Grade II Listed building was refurbished between 2003 and 2007 to be let as a hotel on this prestigious City Centre site.

The Hall of Memory was built by public subscription in 1925 to commemorate over 12,000 Birmingham combatants killed in the First World War. Made of Portland stone it was opened by Prince Arthur of Connaught 4 July 1925. On the outside four large bronze figures by local sculptor Albert Toft represent the Army, Navy, Air Force and the Women's Services. Inside three Art Deco panels by local artist William Bloye depict the call to arms, the war itself and the return home.
Click on the images in the Gallery below to enlarge them.
William Dargue 20.11.2008/ 02.08.2010