William Dargue  A History of BIRMINGHAM Places & Placenames from A to Y
Queensbridge
B13 - Grid reference SP073823
First record c1837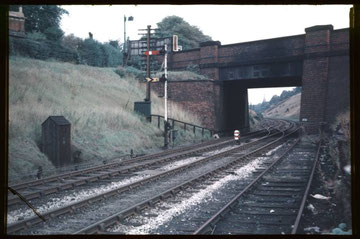 The Birmingham & Gloucester Railway through Moseley opened in 1840 and the Moseley Tunnel under St Mary's Row was the earliest part of any railway to be built in Birmingham. The railway leaves Moseley under the Queens Bridge on the Alcester Road which was named in honour of Victoria's accession in 1837.
See also Moseley and Kings Heath.
Image of Queensbridge, looking towards Birmingham from Kings Heath Station, courtesy of Mark Norton to whom my thanks. See Acknowledgements to link to his website collection of his father's photographs of Birmingham in the 1950s and -60s - Photo by D J Norton. 
William Dargue 15.03.2009/ 08.09.2012