The Yew Tree
B25 - Grid reference SP129854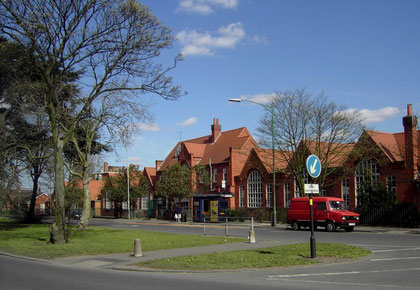 This commercial centre of Yardley lies at the Yew Tree on the Outer Ring Road around the junction of Church Road and Stoney Lane. In the 19th century Yardley House stood here on a very large plot on Hob Moor Road and was owned by the Flavell family. The site is that of the present Hob Moor School.
In 1919 the family sold the immediate grounds and the house itself to the M&B brewery who built a handsome public house, The Yew Tree, on the corner between Hob Moor Road and Stoney Lane, a busy local route from the earliest times.
The pub was named after a country mansion which stood almost opposite between Yew Tree Lane and Church Road. There was presumably a yew tree here. With encroaching housing development the Flavells sold the rest of their estate here in 1920 and it was soon built over with housing.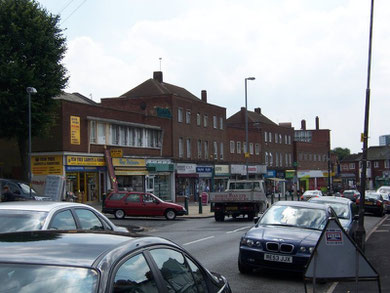 The Yew Tree pub was demolished in 2000 to make way for a new purpose-built shopping centre with a pub as part of it. Other shops and local services line the streets around the crossroads here.
See also Yardley. 
The shopping centre on Church Road looking down towards the Yew Tree roundabout. This image is courtesy of David Fisher All Rights Reserved from his blog, Brummages.. (or What Is It Like Now?).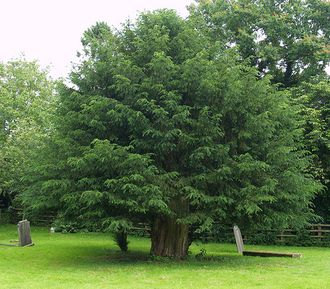 Yew trees are often local landmarks and may grow to a great age - a specimen at South Hayling in Hampshire has a girth of 10 metres and is estimated to be 3000 years old. Yews are distinctive trees with their dark evergreen poisonous leaves, bright red poisonous seeds and their unusual growing habit. The trunk often separates close to the base giving the appearance of a very large dark bush with a hollow centre. They are known to have been sacred to the Celts and are often found in churchyards being associated with both death and immortality.
Yew wood was used to make longbows in the Middle Ages. Probably only a single tree in every hundred was straight enough, but it made a superior bow because yew growth rings are very close and bound tightly together. At 180cm in length a good bow could shoot a heavy arrow as far as 180 metres. Little wonder that they were so highly prized, or that the design changed not at all until the 1930s with the invention of the composite bow.
Click to enlarge the images in the Gallery below.