Yorkswood/ Yorks Wood
B37 - Grid reference SP164881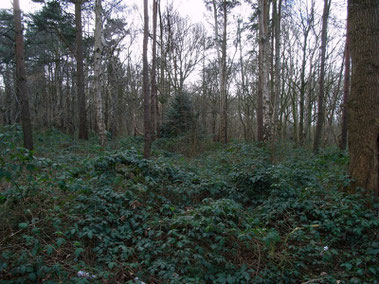 Yorkswood, formerly Kingshurst Wood, was named after the 18th-century York family, tenants of Kingshurst Hall. See Kingshurst.

In 1923 the Birmingham & District Association of Boy Scouts bought some 80 hectares of Yorkswood to set up a permanent county campsite. There were five camping fields within the woodland area. On the site were purpose-built toilet blocks, a swimming pool, training centre, a guest hut and warden's hut. A fresh-water spring ran close to the camp and the nearby Cock Sparrow Farm provided milk and eggs.

The camp entrance was flanked by a set of statues of griffins which were brought here from the roof of Lewis's Department Store in Corporation Street when it was being renovated.  They had originally come from Lewis's predecessor, Newbury's. 
The scout camp closed in 1972 and the estate around Kendrick Avenue was built upon the site of the camping fields. The Lewis's griffins were place along a pedestrian walkway from Kendrick Avenue. 
Much of the wood of Yorkswood still remains to the west of Kingshurst down to the River Cole. It was designated a Local Nature Reserve c1990.
William Dargue 25.10.08/ 29.01.09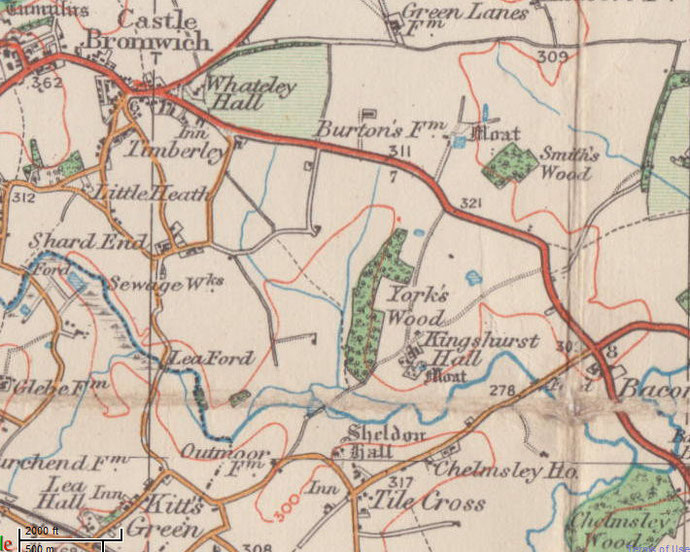 And that's it . . . .
From Attwood Green to Yardley,
from Estone to Yarnton,
from Alom Rock to the Yorkswood,

that's a History of Birmingham Places & Placenames . . .  from A to Y.