Yenton/ The Yenton
B23 - Grid reference SP118927
Eardredingtun was the Anglo-Saxon settlement of 'Eardred's people's farm'. Via Hardintone, the name evolved equally into Erdington and Yarnton, later Yenton. Eliezer Edwards in his Personal Recollections of Birmingham and Birmingham Men, written in 1877 but recalling his youth some 40 years earlier, states that, 'Erdington, [was] then universally called 'Yarnton.' The name survives as that of the primary school on the Chester Road and the pub near the junction of Birmingham Road.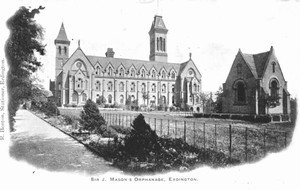 Mason's Orphanage
Pen millionaire and philanthropist Josiah Mason had established an orphanage for thirty children in Erdington as early as 1858. His plans for expansion outgrew the original site, and he had plans drawn up for a much larger building just off the Chester Road in Bell Lane, now Orphanage Road.
Designed in an Italianate style in stone-dressed brick by the Birmingham architect, J R Botham, architect, of Birmingham, this very large gabled building had two prominent towers, the one a ventilation shaft, the other housing a clock which struck Cambridge or Westminster chimes on four bells and the hours on a 25-cwt bell, all cast by William blews of Birmingham. Mason himself laid the foundation stone in 1860 and the orphanage took in its first residents in 1868.

Mason spent £60 000 on the building and endowed the orphanage with land of an estimated value of £200 000 in Erdington, central Birmingham and in other parts of Warwickshire and Worcestershire. The rentals produced some £10 000 a year with which to run the orphanage. Orphans were given food, clothes and lodging and a basic education in reading and writing, arithmetic, geography and history and non-denominational religious instruction. In addition. girls were taught household and domestic duties.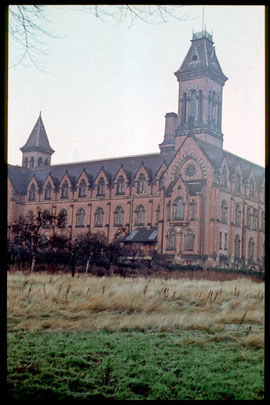 A new wing was built in 1874 with dormitories and a schoolroom for 120 boys which was connected to the main building by a dining hall, which could hold 500 children. The orphanage then catered for 200 girls, 120 boys and 30 infants. Boys were admitted between the ages of seven and ten years old; they left at fourteen. Girls were admitted between the ages of four and ten years old, and left at fifteen.

On his death at Norwood House in Erdington in 1881, Mason was buried in a Norman-style mausoleum in the cemetery in the orphanage grounds.

The orphanage was demolished in 1964 after the trustees decided that it was out-of-date and furthermore too expensive to maintain; the site was sold for housing and the profits used to build old people's housing in Olton. In 1961 prior to the building's demolition, Josiah Mason's remains were disinterred and cremated along with those of his wife and 53 orphans and their ashes scattered in the Garden of Rest at Perry Barr Crematorium.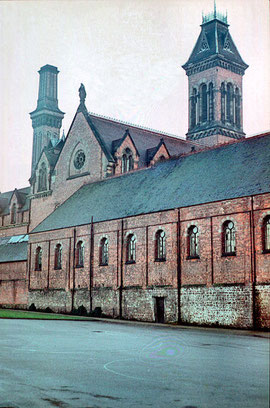 Above and right:
Mason's Orphanage photographed in 1963 by Phyllis Nicklin. The building was then empty and due for demolition.

Mason's Orphanage School opened with orphanage in 1868; it was enlarged in 1874 to accommodate a total of 350 boys, girls and infants. In 1922 it became a public elementary school.
The school was reorganised in 1947 for juniors and infants only and transferred to Birmingham Education Department three years later as Chester Road County Primary School. The school took its present name, Yenton County Primary School, in 1952.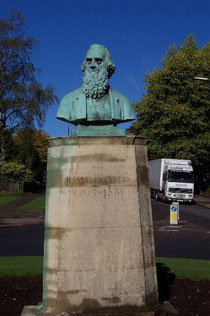 A bronze bust on a pedestal of Josiah Mason stands at the junction of the Chester Road and Orphanage Road. The philanthropist looks across to the Orphanage site. The bust was cast by William Bloye in 1952 and was made from Francis Williamson's full-length seated figure which was erected in 1885 outside Mason College. The college was to become the University of Birmingham and stood on the site of the present Central Library until 1951. The original statue was in a poor state of repair and was subsequently destroyed.
Image left © Copyright Adrian Bailey and licensed for reuse under Creative Commons Licence: Attribution-Share Alike 2.0 Generic. Geograph OS reference SP1192. 

See also Erdington.