William Dargue  A History of BIRMINGHAM Places & Placenames from A to Y
Key Hill
B18 - Grid reference SP059881
Kayes Hill: first record c1700
Kayes Hill was named after a family who lived in the area before 1700. Sir Arthur Kaye was the husband of Anne Marrow, one of the co-heiresses of Birmingham manor who sold the manor to Thomas Archer of Umberslade in 1746.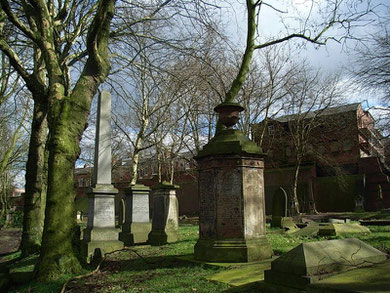 The General Cemetery
Key Hill is now known for the cemetery which was opened by the Birmingham General Cemetery Company in 1836 on the site of the former sandpits. Generally known as Key Hill Cemetery, this was Birmingham's first public cemetery and served for people not wishing to be buried in an Anglican cemetery.
The mortuary chapel resembled a classical temple in the Greek Doric order; it was demolished in 1966.
The cemetery was taken over by the City in 1952 and is Grade II Listed in the Register of Parks and Gardens of Special Historic Interest. It lies within the Jewellery Quarter Conservation Area.
See also  Mount Misery.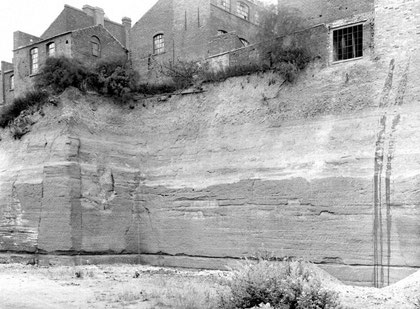 The Church of England Cemetery
This cemetery was opened in nearby Warstone Lane twelve years later also on the site of former sandpits.
Burial plots in the town centre churchyards were increasingly hard to come by and the cemetery was set up as a commercial venture by the Birmingham Church of England Cemetery Company.
The cemetery lodge which is now in use as offices and the semi-circle of catacombs were designed by James Hamilton, the architect of St Michael & All Angels which stood behind the catacombs on Vyse Street.
The church closed a few years later but was reopened in 1869 as the cemetery chapel. As a result of severe bomb damage during World War 2, the church was demolished in 1953.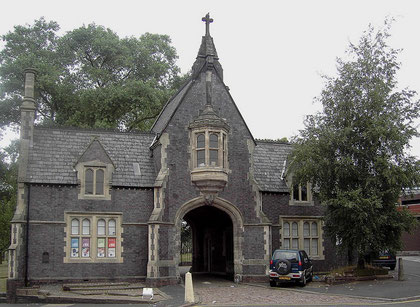 The City took over the cemetery in 1951 and the former Key Hill Methodist chapel was then used as a non-denominational cemetery chapel. The most notable resident is John Baskerville who was reburied here after Christ Church was demolished in 1898. The City bought the cemetery in 1952 and it was closed for burials in 1982.
William Dargue 17.03.2009/ 07.10.2012