Kitts Green
B33 - Grid reference SP152872
Kitte Green: first record 1495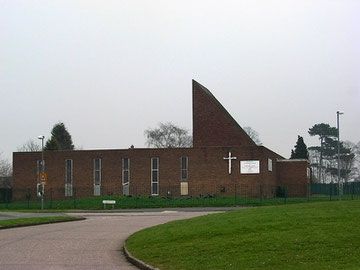 The addition of the family name implies that the Kitts had taken probably ownership of what had previously been common grazing land. The location is shown on the 1834 Ordnance Survey map close to Lea Village. The green was located between Yockleton Road and Lea Village.

Kitts Green municipal housing estate was built before World War 2 as part of one of the City Council's largest developments. It was designed to house over 15 000 residents in an area north of the Meadway between Stechford and Tile Cross.
The modern district known as Kitts Green is west of the original location and derives its name from Kitts Green Road, the main road running through the estate from Glebe Farm to Lea Village.
Photographs below by Christine Johnson on Geograph SP1587 reusable under Creative Commons licence Attribution-ShareAlike 2.0 Generic (CC BY-SA 2.0). See Acknowledgements.
Left: Moodyscroft Road north of the junction with Heynesfield Road. Right: Houses on the west side of Kitts Green Road.
William Dargue 29.03.09/ 07.10.2012