William Dargue  A History of BIRMINGHAM Places & Placenames from A to Y
Kingstanding, Kings Vale
B44 - Grid reference SP083938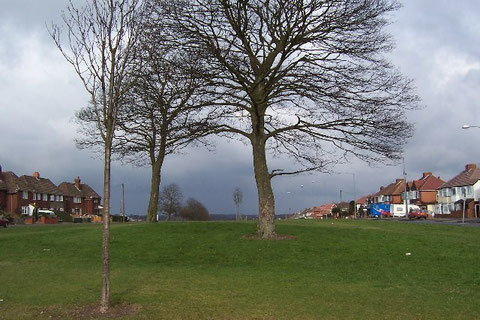 Take a look at the King's Standing, a prehistoric mound on Kingstanding Road alongside the Roman road to Wall which is known here as Icknield Street. This Scheduled Ancient Monument is thought to be an ancient barrow, probably the burial mound of a local noble of the Bronze Age some three thousand years ago. As such it is possibly unique in this area.
It now stands 20m in diameter and just over one metre in height, though it was certainly very much higher in the past.
The name may be medieval and derives from its later use as a 'standing'. This was a place where the king could wait to have deer driven past so that he could hunt with a fair chance of success. The identity of the king is unknown.

During the Civil War King Charles I is said to have addressed new recruits from Staffordshire and the gentry of Warwickshire and Staffordshire at the Kings Standing on 19 October 1642. There is no reason to disbelieve the story, but the name of the mound certainly predates this event. A new farm tenant later levelled the mound but then rebuilt it on hearing from his neighbours of its royal association.

West of Sutton Oak Road is Kingstanding Wood, a plantation laid out after the enclosure of Perry Barr Common and Sutton Chase between 1814 and 1824.
A new housing estate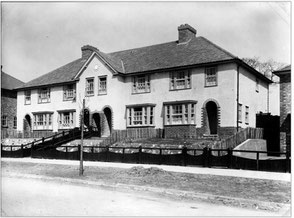 The extensive housing estates of Kingstanding had been planned before the First world war but were built only after 1928 on land previously under the control of Perry Barr District Council. The estate is centred on the junction of Kingstanding Road and Kings Road.
At the time the Kettlehouse estate with over 4000 houses was the biggest municipal housing project in Europe. Warren Farm and Kingsvale Farm were also bought for housing bringing the total up to some 6700 houses.
Left: Newly-built houses in Danesbury Crescent on the Warren Farm estate c1930
Image from the Library of Birmingham, Birmingham images website.
Below: more images from that website. Click to enlarge.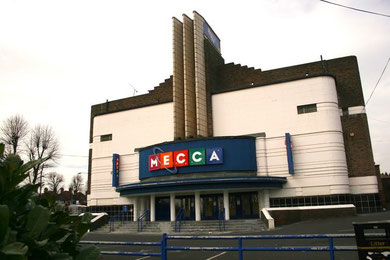 Oscar Deutsch's first Odeon cinema opened in 1930 on Birchfield Road in Perry Barr, the first of 300 across the country; the building still stands but is no longer a cinema and its frontage much altered. Subsequently Odeon cinemas became known for their art-deco architecture, a style first used on the Kingstanding Odeon in 1935.  Although it is now a bingo hall, this building is still largely unaltered and is Grade II Listed. It was designed by the Colmore Row architect, Harry Weedon.
The old school house stood in Shady Lane, the building first being mentioned in the 1840 tithe map schedule. The school opened in 1914 as the village school for a wide rural area with some 40 children on roll. It closed as a school in 1900, but the building was not demolished until 1938.

Close by stood All Saints Church built as a mission of St John's, Perry Barr in 1893. Later a mission of St Luke's, the church was restored as a mission of St Mark's in 1965. The building is now also used as a church hall and social centre.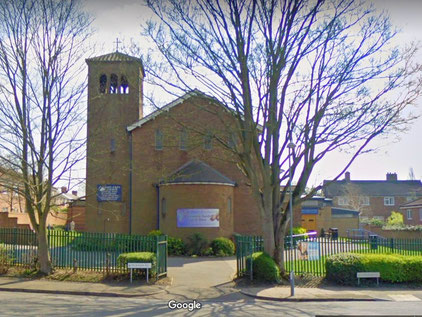 St Luke's Church in Caversham Road, a rectangular building of brown brick, was designed by P J Hunt in an Italianate style typical of its time. It was consecrated in 1937. It has round-headed windows, a small north-west tower with a pyramidal roof and and an apsidal chancel. The church was extended in the 1960s and again in 1995 with the addition of community facilities. In 2000 a new chapel dedicated to Our Lady of Walsingham was built for weekday services.
St Mark's Church in Bandywood Crescent was dedicated in 1952. A new church was built and consecrated in 1971, the old building becoming a day centre. It is a low concrete flat-roofed building with a tall bellcot.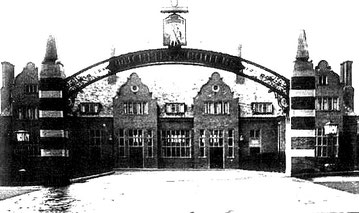 The Kingstanding pub was built at the same time as the estate, a large 'family' pub with Dutch gables, similar in style to that of Warren Farm, now demolished. That pub was replaced in the 1960s by a functional rectangular block typical of the time. At the end of the 20th century this too was demolished to be replaced by a red-brick building. After standing empty for some years, the building was destroyed by fire in 2019.
Perry Barr Reservoir in Kingstanding is a covered reservoir for drinking water constructed by the City of Birmingham Water Department on the site of the former Perry Barr Common Farm on the north side of Rough Road. With a capacity of 83 million litres, it was built to supply the new estates. At the entrance to the site, which is now run by Severn-Trent Water, an original plaque reads: 
The water in this reservoir (capacity 18 million gallons) has flowed 86 miles, without being pumped, though tunnels & pipes from the mountains of mid-Wales.
Kings Vale is a location on Kings Road, east of its junction with Kingstanding Road, and the site of Kings Vale farm which was demolished to make way for housing in the 1930s.
.
See also Maryvale, Old Oscott and Roman Field.
Click to enlarge the images below.
William Dargue 29.03.2009/ 02.01.2021