William Dargue  A History of BIRMINGHAM Places & Placenames from A to Y
Over Green
B76 - Grid reference SP167942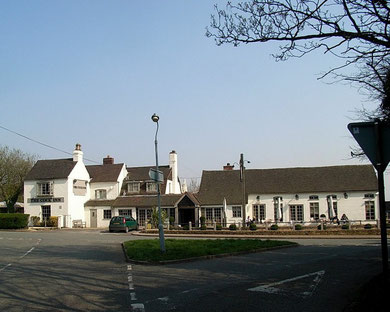 Over Green in Wishaw at the junction of Grove Lane and Bulls Lane lies in the countryside east of Sutton Coldfield,. The name means 'upper green'. There are two medieval moated sites north and south of the junction. Hermitage Farm on Grove Lane is a 19th-century farmhouse on the site of the original medieval building.
The moat may have had three sides only, two of which are still clearly visible. One is now dry, but the other is water-filled and was been enlarged as a cattle pond.

In fields near Hermitage Farm have been found eight flint cores of the late New Stone Age. This suggests a site of flint tool manufacture and therefore settlement 5000 years ago. And many pieces of Roman pottery have been found in the same fields by archaeologists undertaking fieldwalks. A Roman dolphin-type fibula brooch was a particularly interesting find.

The second moated site is at Pool Hall Farm off Curdworth Lane. An L-shaped pond and a pool at Pool Hall remain of the medieval moat. Documentary evidence dates Pool Hall to 1581 when it was described as a manor. The hall is certainly of medieval origin and is no longer a farm but a private residence.

Surviving ridge and furrow west of Pool Hall Farm is evidence of an organised medieval field system in this area.

See also Grove End and Wishaw.
Click on the images below to enlarge them.
William Dargue 06.04.2009/ 31.07.2010