Wishaw
formerly in Warwickshire - one of the Domesday manors of Birmingham and an ancient parish
B76 - Grid reference SP176945
Witscaga: first record in the Domesday Book 1086

There is no village at Wishaw where the village church is set in a completely rural area east of Sutton. The nearest settlement is at Over Green less than a mile to the west , though there may have been an earlier medieval village around the church. There was an open field system still in operation here in 1850.
First recorded as Witscaga, its Anglo-Saxon name, wiht sceaga meant 'curved thicket + small wood', perhaps noticeable because Wishaw is located on higher ground. At Domesday Wishaw was a small manor, worth 30 shillings for tax purposes before the Norman Conquest, but only 10 shillings thereafter. The manorial lord was an Anglo-Saxon, Ordric who continued to hold it after the Conquest.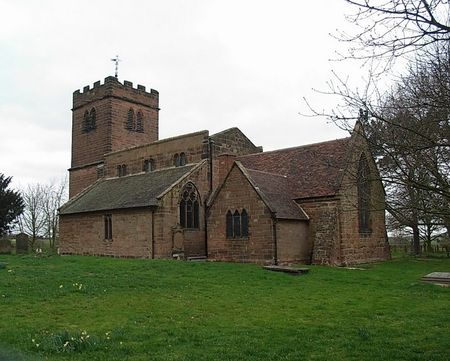 Wishaw was one of the few local manors to have a priest at Domesday. Although nothing is to be seen of the Norman origins of St Chad's Church, the decorated gothic chancel and north arcade of the present building are 13th-century.
The south arcade was built during the following century. Inside are monuments to the Hackett family, the 17th-century lords of the manor of Moxhull in the north of parish. The 17th-century tower is built in traditional gothic style. There were originally three bells here cast by John Martin of Worcester in 1650, but one was sold in 1830. The two remaining bells were rehung with new fittings c1890. Almost a hundred years later in 1997 the oak frame was strengthened and a redundant Whitechapel bell from St Michael's Church, Derby was added to create a ringable three.

To the east of Sutton Coldfield lies Green Belt land which has remained agricultural from time immemorial. It has been the subject much arachaeological investigation because it most of it has not been built on in modern times. Evidence of human activity of all periods has been found all over the area, and there is no reason why the same should not have been true of modern urban Birmingham. Prior to the construction of the M6 Toll Motorway, detailed excavations were made along the route.
On farmland at Wishaw Hall Farm at the north end of the Wishaw near Moxhull, permission was given to quarry clay, sand and gravel for use in building the road. (The land has now been restored to agriculture and a landscaped lake created.) In a field here a scatter of mesolithic flints was found dating from around 6000 BC. These were mainly small cutting tools or waste from flint tool production here on a site that would have been the temporary hunting settlement of a small tribe of nomadic Stone Age people.
William Dargue 11.02.09/ 31.07.2010