The Welsh End/ Welch End, Welsh Cross/ Welch Cross
B4 - Grid reference SP072869
Welch End, Welch Cross; first record 1731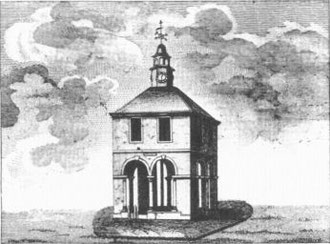 William Hutton, Birmingham's first historian writing in 1783, believed the name to have originated 200 years before his time. The Welsh Cross was a small square 2-storey building at the junction of Bull Street and the High Street, Dale End.
The word 'cross' was a late Old English term used of market places. The building, which dated from the beginning of the 18th century, had arches on the ground floor with open public access and was used by country people as a market for butter and eggs. The upper room was used for meetings and occasionally as a guard house for prisoners. Stocks and a pillory were kept here. It was demolished in 1803, the 3-dial clock and weathercock being advertised for sale.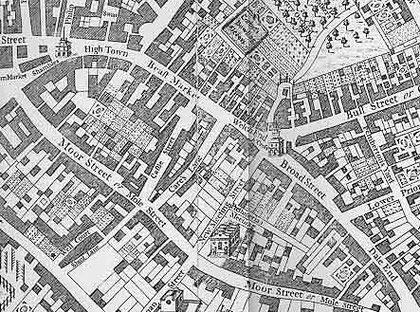 The name derives from the fact that this end of the town was where the Welsh drovers came to sell their cattle on market and fair days. It is fairly certain that the Chester Road via Castle Bromwich and the Coleshill Road was one route along which sheep and cattle were driven here from North Wales.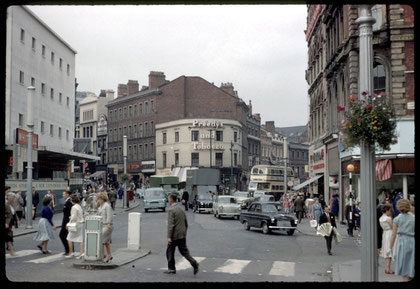 William Hutton vividly described the way that market days and fairs took over the town:
For want of a convenient place where the sellers may be collected into one point, they are scattered into various parts of the town. Corn is sold by sample, in the Bull-ring; the eatable productions of the garden, in the same place: butchers stalls occupy Spiceal-street; one would think a narrow street was preferred, that no customer should be suffered to pass by.
Flowers, shrubs, etc. at the ends of Philip-street and Moor-street: beds of earthen-ware lie in the middle of the foot ways; and a double range of insignificant stalls, in the front of the Shambles, choak up the passage: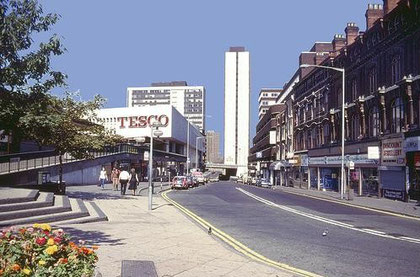 The beast market is kept in Dale-end: that for pigs, sheep and horses in New-street: cheese issues from one of our principal inns: fruit, fowls and butter are sold at the Old Cross: nay, it is difficult to mention a place where they are not.
By some antique writings it appears, that 200 years ago this spot bore the name of the Welch End, perhaps from the number of Welch in its neighbourhood; or rather, from its being the great road to that principality, and was at that time the extremity of the town. If we were ignorant of the date of this cross, the style of the building itself would inform us, that it rose in the beginning of the present century, and was designed, as population encreased, for a Saturday market.
 See also Dale End and Welshmans Hill..