Woodgate, Woodgate Valley
B32 - Grid reference SO995825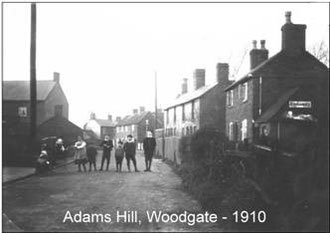 There are a number of Woodgates across the country. Here Woodgate Valley is that of the Bourn Brook. The significance of the 'gate' in the wood is not known, but it possibly derives from the medieval wudu gaet meaning 'wood road'.
Although there was a small village around the junction of Adams Hill, Woodgate Lane and Wood Lane by the end of the 19th century, it was not until the 1970s that large-scale council housing was built here along with neighbouring Kitwell.
The modern housing development of Woodgate was built between the Bourn Brook and Clapgate Lane while leaving a wide green parkway of some two miles along the river valley. This open space became Woodgate Valley Country Park in 1981.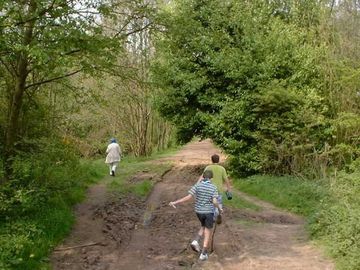 The park was the culmination of a wider scheme which dated back to 1930s and earlier. As the council built or encouraged private building on greenfield sites, some of them over 6 miles from the City Centre, councillors became concerned about the quality of provision.
In the decade after the First World War planning schemes were set up to determine the lay-out and width of roads, the amount of public open space and the density of housing.
From the 1930s the concept developed that rural areas around the city should be retained in perpetuity and that this Green Belt should never be built on. Woodgate Valley was one of the first such parcels of land bought by the council c1937 and was rented out for agriculture.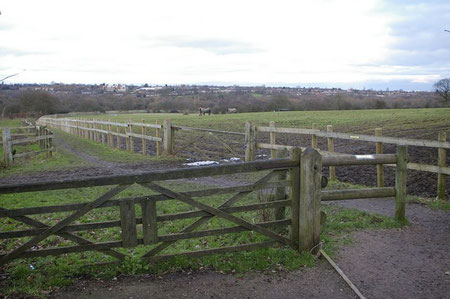 In the late 1970s it was decided to convert some 200 hectares of the farmland, which was now almost surrounded by housing, into an urban country park. This is now maintained with a high priority given to nature conservation and includes an urban farm at Hole Farm with a variety of farm animals, including some unusual and rare breeds, and a visitors' centre.
A variety of habitats include meadows and grassland, woodland and wetland, home to over 250 plant species and a wide range of butterflies. Over eighty species of bird have been recorded in the park.
There remains evidence of the former use of the land. Many old hedges have survived, evidence of former brickworks is to be found and there are signs of the collapsed Lapal canal tunnel which runs under the site. See California.
Early evidence

Near Stonehouse Road part of a bronze flat axe blade was found with a metal detector west of Holly Hurst. This was a Bronze age implement dating from 2000 BC-600 BC. On the south bank of the Bourn Brook near Moor End Farm near Simmons Drive a Bronze Age burnt mound has been investigated. Measuring three metres in diameter, the mound has been radiocarbon-dated to about 2020 BC. Another mound on the north bank of Bourn Brook near Sommerfield Road is now destroyed.

Also near Somerfield Road a medieval moat lay near Bourn Brook 300m north-east of Moor Farm; this was demolished for housing in the 1970s. Moat Leasow and Moat Meadow are also shown on the tithe map and one dry arm of the moat nearly 30m in length can be discerned. Near Moat Coppice, Moat Farm, now demolished, also had visible signs of a medieval moat. And also dating from the Middle Ages, running alongside Watery Lane at the west end of the valley is an ancient hedgerow believed to have been planted in 1270.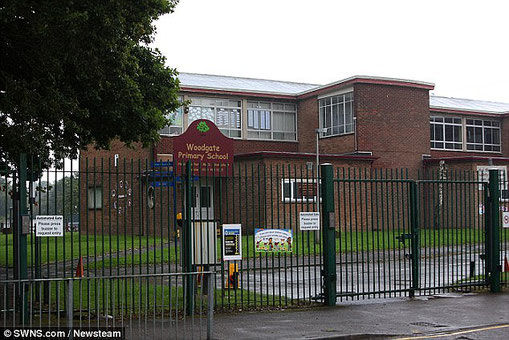 Woodgate British School opened in 1891 in Woodgate Primitive Methodist chapel for non-conformists who did not want their children to attend Bartley Green Church of England school. Extensive alterations were made in 1893 to qualify for government grants. The school was transferred to Kings Norton & Northfield Urban District Council in 1906 becoming Woodgate Council School.
The inadequate building closed as a school in 1914 replaced by Bartley Green Council School with accommodation for 160 children. This was reorganised as a senior school in 1931 and the site enlarged in 1937. In 1951 the school was reorganised as a junior school with extra accommodation provided at Woodgate Methodist Church schoolrooms in 1952. In 1953 the school closed and the children transferred to the new Woodgate County Primary School in Lutley Grove.
See also Bartley Green and Moor Street.
William Dargue 08.02.09/ 31.07.2010