Wyrley Birch
B23 - Grid reference SP085926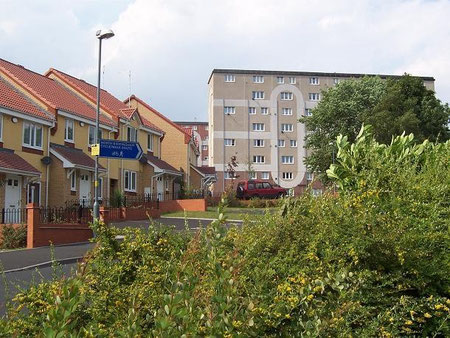 This is a municipal housing estate north of Witton Lakes at Perry Common which dates to c1955. Four 8-storey tower blocks were built on Faulkners Farm Drive by 1957 by Wimpey. 16-storey Kesterton Tower was completed in 1964; it has since been demolished.
In the last years of the 20th century the housing stock and general demeanour of the area deteriorated badly with residents concerned about crime, vandalism and anti-social behaviour. Plans are currently underway to renovate the estate. which was named after the family who were lords of the manors of Handsworth and Perry.

It is not known when the Wyrleys first acquired Hamstead Hall, originally been the manor-house of Handsworth. Certainly members of the family and their descendants, the Birch family, held land in Hamstead, Handsworth and Perry from at least the 13th century.

Hamstead Hall ceased to be the manor house early in the 19th century when the Birch family moved to Norfolk and the estate was sold to Lord Dartmouth of Sandwell Park. The last of the family to be lord of the manor was Wyrley Birch; by 1848 the lordship had presumably been sold and was in the possession of the Gough family.
See also Hamstead.
William Dargue 05.02.09/ 22.01.2021