Wood End and Little Wood End
B24 - Grid reference SP106914
le Wode End: first record 1461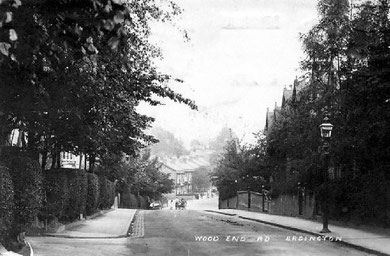 An alternative name for area around the medieval moated site of Pype south-west of the junction of Kingsbury Road and Bromford Lane.
This sub-manor of Erdington was variously known as Pype Hall, Pipe/ Pype Manor or Pype Orchard. The area around the moated site was also known as Wood End, presumably simply meaning the wooded end of the manor. 60 acres (20+ ha) of woodland were recorded here in 1303. Roger ate Wode was recorded here in 1304 and le Wode End was recorded in 1461.
Moated living fell out of fashion and Pype Hall, the house within the moat, was rebuilt north of the moat in 1543. This building was enlarged in 1622 as Wood End Hall and was known as Wood House by the 19th century.
The 1891 Ordnance Survey map shows a large boating lake south of the moated site. The house was demolished in 1932. The site is now within the playing fields of Kingsbury School. Neither the name Pype nor Wood End is any longer in use.
See also Pype.
Right: This Wood End Hall is a later building and locally listed.
Little Wood End, also known as Littleworth End, is shown on Blood's map of 1857 as being at the junction of Jaffray Road and Wood End Lane.