Wake Green/ Moseley Wake Green/ Moseley in Yardley
B13 - Grid reference SP085825
Above: Houses in Wake Green's St Agnes Conservation Area. Click to enlarge.
At the junction of Wake Green Road with College Road, this placename name may signify a green where wakes ie. medieval fairs, were held. Or it may derive from an Anglo-Saxon personal name, Waca.

Although the district was considered part of Moseley by the 18th century and often referred to as Moseley Wake Green or Moseley in Yardley, most of it actually lay within sub-manor of Greet which lay in Yardley manor. It is not certain when the common land of which Wake Green was part was enclosed. But the final enclosures in Yardley manor were made during the 1840s and by that time all the common land had already been enclosed.

There seems to have been visible evidence of an earthwork on what is now Wake Green playing field between Yardley Wood Road and Windermere Road. Possibly an Iron Age enclosure, it survived until the 1820s when it was ploughed out. There was a local legend that King Alfred made his headquarters here before locally defeating the Vikings. While this is possible, it is more likely an imaginative antiquarian invention.
Also on the playing fields on a site to the rear of Adrian Croft, Wake Green Windmill was recorded in 1664 as belonging to Richard Grevis of Moseley Hall. It is known to have been leased in 1766 by John Allen from John Taylor of Moseley Hall. It had been demolished by 1834. This windmill is one of the few Birmingham windmills whose appearance is known: a sketch exists drawn by Birmingham water-colourist, David Cox in 1819.
Another 17th-century windmill stood east of Yardley Green Road, south of Linkswood Close. This was probably a post mill built to grind corn when the water-powered Lady Mill went over to wire drawing. It was built downstream of the watermill on the knoll above the River Cole and had fallen out of use by the 19th century.

The watermill, Lady Mill took its power from Coldbath Brook and stood east of Yardley Wood Road. Its millpool lay west of the road where it still survives as a fishpond on Moseley Golf Course. In use by 1437 as a corn mill, it was used for drawing wire from the 17th century until its closure in the 1830s. Its name may relate to a connection with St Mary's Church, Moseley.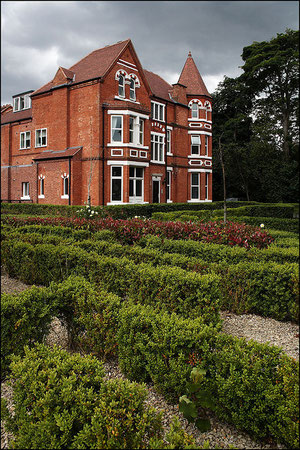 Millmead on Wake Green Road is a house that was built in 1910 around two old cottages. However, although original Tudor materials are evident in the construction, their origin is uncertain.
And on Gracewell Road, Moorlands, which is known to have been built on the site of a 17th-century cottage, appears to be a Victorian farmhouse. However, the oldest gable dates from 1760 and the other three also date from the 18th-century. The house was extended to the rear in 1875 at which date all the gables were raised. Used during World War 2 as the local Home Guard headquarters, Moorlands is now converted into two separate dwellings.

The development of Wake Green as a well-to-do suburb began towards the end of the 19th century. At that time Wake Green was a high-class rural outpost detached from Moseley which was almost by this time almost completely built up. Many examples of high-quality housing may be still found here. 
Left: No.36 Wake Green Road. Image by Ted & Jen Spiller on Flickr, Springfield Get Walking Keep Walking set, reusable under Creative Commons licence Attribution 2.0 Generic (CC BY 2.0).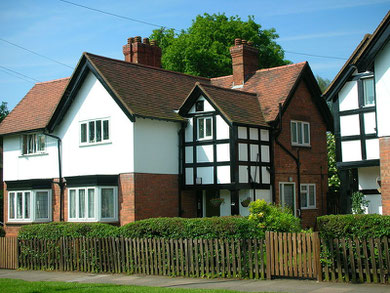 On Wake Green Road a number of houses are Listed buildings including No.8, a rare Birmingham example of Cadogan Square Queen-Anne-style architecture dating from 1885. Lindenhurst and Rolleston, now a semi-detached pair, were built in 1890 as a large detached house for the concert impresario W Percy Harrison of Buckingham. The ground floor was continuous throughout, but the upper floors were separate with Harrison living upstairs at Lindenhurst and visiting performers whom he accommodated at Rolleston.
The house has a complicated frontage with gothic elements, timber-framing gables and dormers. The 1911 Census shows concert director Percy Harrison living there, a single man with a house keeper and servant and it was where he died on Christmas Day 1917. The house has been divided into flats since the 1950s and is Grade II Listed.

No.264 Wake Green Road, originally No.4 Gracewell, was the first home in England of the author, J R R Tolkien. See also Sarehole.
Take a look at St Agnes' Church built in early decorated gothic style and faced with stone. The church, designed by William Davis in competition, was intended to be built in three stages.
The chancel, transepts and part of the nave were completed in 1884, the rest of the nave and the aisles in 1893, and the tower in 1932, paid for by an anonymous donor, was completed by the Castle Bromwich architect, C E Bateman. There are two Taylor's bells in place dated 1921 plus the necessary frame to take another six. The stained glass in the aisle windows is by Claude Price and was installed in the 1950s. The building is Grade II Listed.

Take a look at the St Agnes area with its late 19th-century and early 20th-century upper-middle-class housing much of it in Arts & Crafts style. This is now a Conservation Area which includes St Agnes' Church and all or parts of Oxford Road, Billesley Lane, Colmore Crescent, Cotton Lane, Dyott Road, Mulberry Drive, St Agnes Road, Wake Green Road and Yardley Wood Road.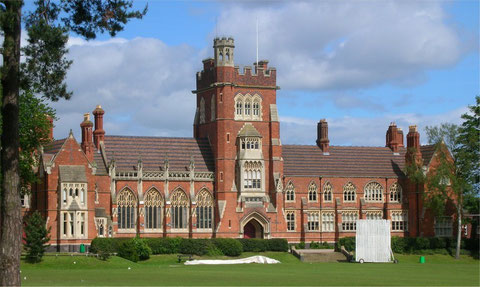 Worth a look. Spring Hill Congregational College, now Moseley School stands on Wake Green Road. It was originally based c1821 at the home of the Mansfield family at Spring Hill, Hockley to train ministers of the Congregational Church.
 
By 1840 these premises were inadequate and a new green-field site was bought at Wake Green. The land, formerly the Long Meadow, was purchased in 1841 from a local farmer, Thomas Wyatt, but a complex legal battle between members of the College Trust ensured that no building work took place until 1854. Intended to take 12 months and cost £11,000, work took two years, and cost £18,000.
Although Sarah Glover, the last of the Mansfields, had provided money to purchase the land, she and her siblings had discontinued their financial support of the college in 1842 as a direct result of the legal case and all had died before the decision to build at Moseley was taken.

After the college's move to Oxford as Mansfield College in 1886, the building was out of use until 1891, when it was sold for £10 000 to William Ross, who did not, however, live in it. At the time of the purchase he lived opposite the Lloyd family home in Sparkbrook. On buying the Spring Hill College site he erected the row of houses which still stands along the southern side of College Road, and occupying No.155 until his death in 1917, after which the property passed to his three sons and one daughter.
 
In c1889 the buildings were reopened as Pine Dell Hydropathic Establishment, the health baths filled by natural springs on site. Moseley Botanical Gardens were later opened in the grounds. At a wedding here in 1896 the first paper confetti ever to be used in England was thrown.

Pine Dell closed c1900 after which the college buildings had a variety of uses. They became Moseley Barracks, an Army recruitment and training centre for the 3rd Birmingham City Battalion; during the First World War it is probable that the building was in use as a military police station.

Between 1918 and 1920 the Roman Catholic order of the Sisters of Nazareth used the building as a home for orphaned children when their home in Northfield was requisitioned by the Ministry of Munitions to house munitions workers at the Austin factory.
 
The Ross family sold 11 acres of the site in 1921 to the Ministry of Supply for use as Springfield College, a rehabilitation centre for wounded ex-servicemen. This was passed to the city's education board in 1923 for conversion to a school (considered highly unsuitable by its first headmaster) while the Ross family retained the remainder of the site, selling most in 1955, after the death of William's eldest son. His granddaughter appears to have passed away in 1969, at which point the last small parcel of land was disposed of.

The Ministry of Labour used the college as office accommodation from 1921 to 1923 until the opening of Moseley Secondary School for Boys. The school became Moseley Boys' Grammar School in 1939 and is now part of Moseley School.
Additional information given by Old Moseleian Keith Townsend, to whom my thanks, who attended Moseley Grammar School 1956-1962. See Acknowledgements for a link to the Moseleians website.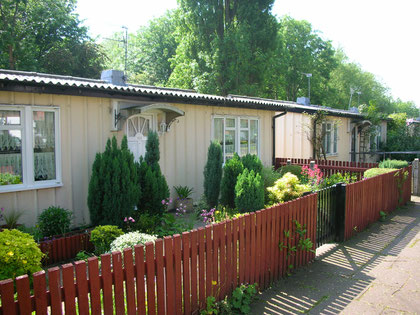 Prefabs (pre-fabricated houses) were built after the Second World War as a quick but temporary solution to the loss of housing caused by the the German bombing raids. They were very often built on the edges of parks Birmingham, so that miminum land preparation was needed.
There were a number of designs, but all had a kitchen with a fridge and cooker, running hot water and a wash boiler. There was a separate toilet and bathroom, two bedrooms and built-in storage cupboards. They were lit by electricity and electrical sockets were provided.
For many people from inner-city districts they were a great improvement on their previous houses. Some were built by German and Italian prisoners of war.
Some 4500 prefabs were put up in Birmingham from the end of the war until 1948 and were designed with a life-span of 15 years. However, as local authorities had difficulty in rebuilding bomb-damaged and slum properties quickly enough, they were allowed them to buy the prefabs from the Government and maintain them for longer than planned.
Despite the fact that they could be cold in winter, too hot in summer and often suffered from leaks and condensation, they were often popular with their tenants. When the programme was put in place to demolish them and rehouse the tenants in tower blocks or on new estates, many people, especially older people, did not want to be moved. Prefabs were small and easy to maintain, they often had a reasonable garden and were situated in parkland. Rents were low and, by this time, established communities had reformed.
However, demolition and rehousing continued and by 1980 all but 17 of the Birmingham's prefabs had been demolished. A row on Wake Green Road was preserved, refurbished and given Grade II Listed status in 1998 and are still standing substantially unaltered.
William Dargue 01.03.09/ 31.07.2012