Wells Green
B26 - Grid reference SP149838
First record 1558

North of the junction of the Coventry Road and Sheaf Lane, this green took its name from the Wells family who are known in this area from at least 1558. 
Their descendants still owned land here into the mid-19th century. The term green in the Middle Ages usually denoted common grazing land.

In the 17th century on the hill near Rectory Park Road stood a windmill. This was Wells Green Mill, a postmill known to have been there in 1687. It was demolished sometime in the early 18th century. Soon after 1788 Sheldon postmill was built close to the site. This had stopped work by 1875.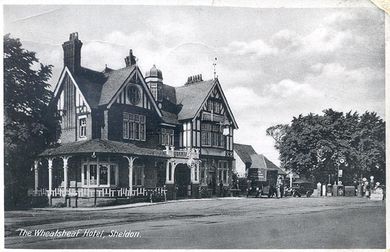 There was no settlement here until the 20th century in whose early years a number of large houses were built in this rural location with easy access along the Coventry Road to Birmingham.
The nearest village, from the Middle Ages until the 20th century, was around Sheldon church. It was not until 1931, when Sheldon north of the Coventry Road amalgamated with Birmingham, that housing development began across the area.
There was substantial private building both at Sheldon village and at Wells Green, and by the outbreak of World War 2 most of the area was overlaid with housing. The 1970s' shopping centre in the north-west angle of the Coventry Road/ Sheaf Lane junction is known as Wells Green shopping centre.
William Dargue 27.02.09/ 01.08.2010