Whitehouse Common
B75 - Grid reference SP135975
Whitehouse: first record 1725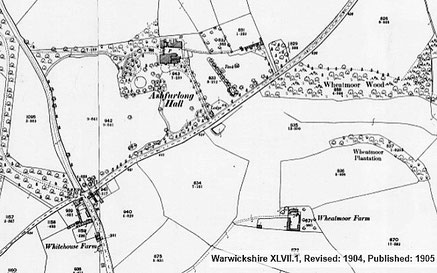 This self-explanatory name was in use by 1725. It may have referred to Whitehouse Farm which stood on Whitehouse Common Road between Ashfurlong Crescent and the Tamworth Road.
A common was land over which manorial tenants had certain rights, usually that of pasture for livestock. The junction of Tamworth Road and Whitehouse Common Road is described as Whitehouse on the Ordnance Survey map 1st Edition 1834.
The area around Whitehouse Common Road covered by the modern district of Whitehouse Common was then known as Whitehouse Enclosure having been enclosed with the rest of Sutton's common land in the 1820s.

A small quantity of prehistoric worked flint was found in 1999 in fields near Wheatmoor Farm. It may be of late neolithic c2500 BC or mesolithic type c8000-c4000 BC. And off Withy Hill Road a 1st-century Romano-British brooch clasp from Chester was also found on the fields of Wheatmoor Farm.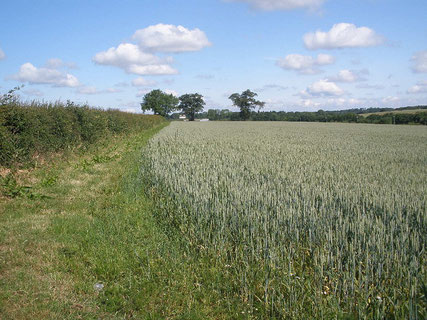 Medieval ridge and furrow is visible north of Barn Farm on the south side of Withy Hill Road east of the junction with Lindridge Road; also off Lindridge Road south of Barn Farm and north-west of the junction of Lindridge Road with Springfield Road. These are important evidence of open fields probably dating from the Middle Ages. Ridge and furrow is a surface feature which is easily ploughed out and survives only on land that has been used for pasture since the demise of the open-field system. Once destroyed it cannot be distinguished archaeologically.

At the junction of Tamworth Road and Weeford Road a small early 16th-century building survives incorporated into a late 18th-century house. Vesey Grange is one of only seven houses left of the 51 built by Bishop Vesey in the 16th century. It is now a large six-bedroom house standing in some 2½ hectares of grounds. It is Grade II* Listed and includes the original spiral and oak staircases. Vesey Grange is protected by a Grade II* Listing.
For other Vesey houses see High Heath, Maney, Reddicap and Walmley. See also Sutton Coldfield.
At the junction of Tamworth Road with Whitehouse Common Road is Wheatmoor Farmhouse built in 18th-century revived gothic with a castellated parapet. Although originally a working farmhouse, it was most likely designed to be part of a picturesque view for the residents of nearby Ashfurlong House. See also Ashfurlong.
Below left: Vesey Grange - from Google Maps Streetview. Right: Wheatmoor Farmhouse - from Sutton Coldfield Local History Research Society
William Dargue 25.02.09/ 20.01.2021