Wheeleys Hill
B15 - Grid reference SP058855
Wheeleys Hill is now Wheeleys Road and is probably named after a landowner. Certainly the surname Wheeley is found in Edgbaston in the 18th century.

In 1727 the Bromsgrove Turnpike opened following the old road to Bristol via Edgbaston. This route left Birmingham from Smallbrook Street (Queensway), going via Holloway Head, Wheeleys Lane, Wheeleys Hill now Wheeleys Road, Arthur Road, Church Road and Priory Road. It then went via a lost road which skirted Edgbaston Park where evidence of the holloway survives. It crossed the Lower Pool dam and then the Bourn Brook at the bridge on Bristol Road near Bournbrook Road.
In 1771 a straighter route was made from Smallbrook Queensway via Horsefair, Bristol Street and Bristol Road to join the old road before Bournbrook Bridge. There was a tollgate at Priory Road/ Edgbaston Road. A tollbar at Edgbaston Park Road was manned on market days to catch travellers hoping to use the old road through Edgbaston Park. The next tollgate was at Longbridge.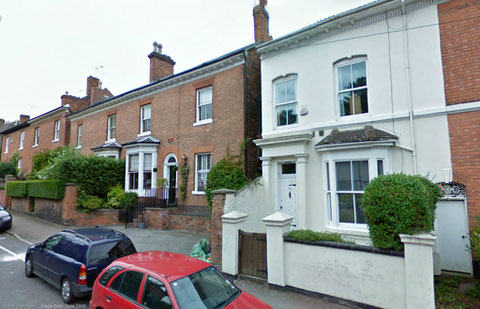 Eliezer Edwards, writing in First Impressions in 1877, mentions Wheeleys Hill in his description of the town as it had been 40 years previously on his arrival here:
Beyond the Five Ways there were no street lamps. The Hagley Road had a few houses dotted here and there, and had, at no distant time, been altered in direction, the line of road from near the present Francis Road to the Highfield Road having at one time curved very considerably to the left, as anyone may see by noticing the position of the frontage of the old houses on that side.
All along the straightened part there was on the left a wide open ditch, filled, generally, with dirty water, across which brick arches carried roads to the private dwellings. "The Plough and Harrow" was an old-fashioned roadside public-house.
Beyond this spot all was open country. Calthorpe Street was pretty well filled with buildings. St. George's Church was about half built. Frederick Street and George Street—for they were not "Roads" then—were being gradually filled up. There were some houses in the Church Road and at Wheeleys Hill, but the greater portion of Edgbaston was agricultural land.
Edited
By 1877 much of it was built up.

A Birmingham Civic Society blue plaque in Wheeleys Road commemorates Joseph Sturge (1793-1859), the noted anti-slavery campaigner. He lived at Southfields, No.64, now demolished, from 1824 until his death in 1859. Eden Croft flats replaced the original building at the junction with St James Road.