Woody Bromwich
B36 - Grid reference SP143897
Wodebromych: first record 1291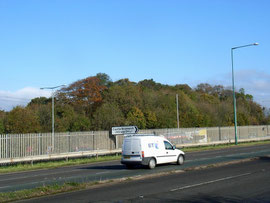 In a document of 1291 a lord of the manor, Anselm is described as being of Wodebromych ie. Woody Bromwich. The manor is earlier described simply as Bromwich and may refer to Castle Bromwich. It may be that the additional element was added to distinguish it from nearby Little Bromwich. As early as 1287 one Henry, probably the lord of the manor, is documented with the surname de Chastel de Bromwych ie. Castle Bromwich.
Left: Langley Hill Wood aka Spring Hill, a small surviving portion of the ancient Forest of Arden. The road nearest is the Chelmsley Collector Road; behind the fence is the M6 motorway. Langley is a medieval name meaning long clearing and probably refers to the land along the River Tame which flows from west to east (left to right) in the valley beyond. Further east Park Hall/ Hill Wood is also a surviving remnant.

Google Maps - If you lose the original focus of the Google map, press function key F5 on your keyboard to refresh the screen. The map will then recentre on its original location.
For 19th-century Ordnance Survey maps of Birmingham go to British History Online.