Ward End
B8 - Grid reference SP115885
Warde End: first record 1460
Ward is first found here as a family name in 1297 when Thomas le Ward de Eryngton is recorded; Henry le Warde de Bromwich is documented in 1315. The name Ward End was used from at least 1460 and was synonymous with Little Bromwich and later for that part of Little Bromwich adjacent to Washwood Heath. As part of Little Bromwich it was a manor of Aston parish until its amalgamation with Birmingham in 1891.

In the Middle Ages Ward End's open fields were south of Ward End Hall. They lay between the Wash Brook, which flows alongside Ward End Park, east as as far Bromford Lane and south to Alum Rock Road. The district was centred on the home of the Ward family, Ward End Old Hall, originally a medieval manor house whose site was close to Over Pool Road and which stood on an island within a large moat. 
William Hutton, who lived nearby at Washwood Heath, described the site in 1783:
The old castle has been gone about a century; the works are nearly complete, cover about nine acres, the most capacious in this neighbourhood, those of Weoley-castle excepted. The central area is now an orchard, and the water, which guarded the castle, guards the fruit. This is surrounded with three mounds, and three trenches, one of them fifty yards over, which, having lost its master, guards the fish.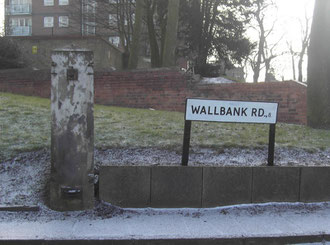 Ward End is thought to take its name from the Ward family who are known to have been living in Little Bromwich by the end of the 13th century. William Ward inherited an estate here from his father in the early 1500s and sold it to a very wealthy Coventry cloth merchant, John Bond before 1515 (He was later MP for Coventry). At that date he enclosed 30 acres, c12 ha to make a small deer park. The park lay between the Wash Brook, Wallbank, St Margaret's Road and as far as Bromford Lane.
After Bond's death in 1548, the manor known either as Ward End or Little Bromwich passed to his granddaughter, Margery Bond and her husband, Edward Kynnersley. In 1658 her son John Kynnersley sold the manor to Thomas Bayly. The manor was subsequently divided in two. In 1710 a new neo-classical hall was built outside the moat on the site of Ward End Hall Grove. The earlier hall was probably abandoned.
A Birmingham ironmaster, Charles Blackham owned the manor house in 1725 and probably half of the manor; and in 1749 Thomas Blackham and John Biddulph sold the whole manor to Abraham Spooner.
Descendants of Spooner, Abraham Spooner-Lillingston and his son Isaac William had the manor in 1830. The hall was later occupied by relatives of 18th-century Birmingham historian William Hutton.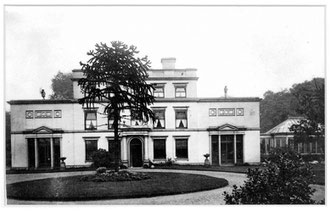 On the roof of the hall were two statues, nicknamed Jack and Tom and popularly believed to be the two soldiers Thomas Pitmore and John Hammond who were hanged for highway robbery and murder on Washwood Heath in 1781.
By the time of the Second World War, the hall was empty, neglected and in poor repair; It was demolished c1945. At that time the earthworks of the medieval moat were still in evidence.
Council housing, some of it high-rise, was built on the site shortly afterwards and no evidence of the old hall is now visible above ground.

In this sparsely populated country area 'Washwood School' was established in 1717 for needy children as a result of the legacies of Joseph King and Robert King. Another school was also established in Washwood Heath by Colonel Thomas Astbury c1815 for some 60 children and supported by his legacy from 1820. From 1835 the Kings' legacies were used to support Astbury's school. Presumably by then the two schools had become one and the same.
However, by this time there were only twelve pupils, mostly fee-paying, and the school was held in a house rented fior the purpose. By 1844 the school was known as Washwood National School, and by c1860 Little Bromwich National School. So-called National Schools were set up by the National Society (Church of England) for Promoting Religious Education which had been founded in 1811. Their aim was for there to be a Church school in every parish. The Society offered grants to the founders of schools and funded the building or enlarging and fitting-out of schoolrooms. The purpose of the National Society's involvement in education was that 'the National Religion should be made the foundation of National Education, and should be the first and chief thing taught to the poor, according to the excellent Liturgy and Catechism provided by our Church.'

The National schools thus set up were the predecessors of the Voluntary Controlled and Voluntary Aided Church of England Schools that exist at the present time.

The school building stood on the west side of St Margarets Avenue, then called Black Pit Lane, roughly opposite Over Pool Road. It then comprised a newly built schoolroom for 65 children plus a teacher's house. The school was transferred to the Aston School Board as Ward End Board School in 1879 and was enlarged ten years later. By 1930 the school was known as Ward End Council School. In 1931 Ingleton Road Council School was opened by Birmingham Education Department to replace it with accommodation for 532 children. However, the old board school buildings continued in use as an annexe for a further 100 children. Probably because of its proximity to the industrialised Tame valley the new school building was damaged by a German bomb in 1941. Repaired in 1953, it was renamed Ward End County Primary School.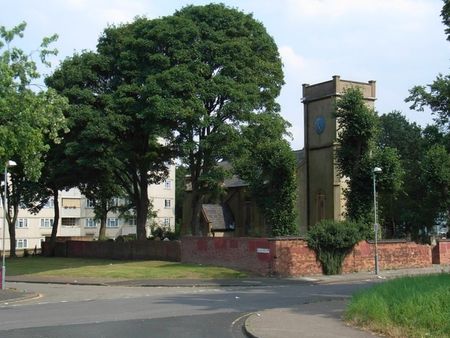 St Margaret's Church
A number of old buildings survive on St Margarets Road including St Margaret's Church, the only church foundation of its period in Birmingham. Dedicated to the Blessed Virgin Mary & St Margaret, the church was built in 1517 at the expence of John Bond. It had fallen into ruin by 1730 when it was noted as being under repair. William Hutton wrote:

In 1512, it [Ward End] was the property of John Bond, who, fond of his little hamlet, inclosed a park of thirty acres, stocked it with deer; and, in 1517, erected a chapel for the conveniency of his tenants, being two miles from the parish church of Aston.
The skeleton of this chapel, in the form of a cross, the fashion of the times, is yet standing on the outward mound: its floor is the only religious one I have seen laid with horse-dung; the pulpit is converted into a manger--it formerly furnished husks for the man, but now corn for the horse.
Like the first Christian church, it has experienced a double use, a church and a stable; but with this difference, that in Bethlehem was a stable advanced into a church; this, on the contrary, is reduced into a stable.

It was not until the 1830s that a public appeal for funds was made and the church was completely rebuilt in simple gothic style by Thomas Rickman. It was rededicated in 1834. It is brick-built but rendered to simulate stone after external and internal restoration 1929. A monument of 1848 by Peter Hollins commemorates Birmingham's first historian William Hutton d.1815 who lived in a house off Washwood Heath Road near Hutton Avenue. (See Bennetts Hill.) This Grade II Listed building was closed as a church due to falling numbers in 2004 and the unoccupied building is again in a poor state of repair. In 2010 a community trust was set up with plans to restore the building and to make it available for both community and church use.
Photographs below of St Margaret's marked DB are reproduced here with the kind permission of Darrell Brighton of the St Margaret's Community Trust. Images marked OP are courtesy of Olwyn Powell to whom my thanks. 
Click to enlarge the images.

Ward End Farm stood opposite the church until c1900. Also in St Margarets Road Ye Old Barley Mow appears on a map of 1759; the public house which was rebuilt in the early 20th-century may still be visited.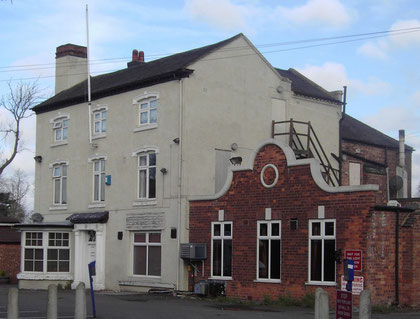 At the corner of St Margarets Road and Washwood Heath Road is Ward End Social Club housed in a late 18th-century building known as Normanhurst. It is Georgian in style with a neo-classical front doorway. At one time the home of Alderman Thomas Clayton of the national canal carriers, Fellows, Moreton & Clayton. Although it has been altered and has a 20th-century extension to the right, it is a Grade II Listed building.

Drews Lane at Winnington Road was the site of Ward End Mill which was recorded in the 15th century. It operated as a corn mill until c1900. The old mill building was demolished when Drews Lane was widened in the 1920s and council houses were built on the site.
The road takes its name from the mill which was known as Drews Mill in 1886 and was John Drew's second flour mill after Edgbaston Mill. Drew was noted for the famous self-raising flour he made here. The mill pool lay between Winnington Road and Ingleton Road and is shown on a 1933 map; Northleigh Road Allotments now cover the site.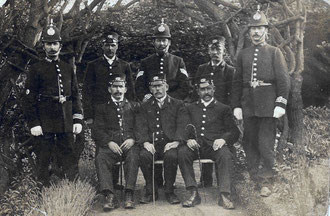 Ward End Park
The medieval open fields of Ward End were probably enclosed during the first years of the 20th century. Ward End Park House was built at this time on land had been part of the medieval Slade Field which had still been in strip cultivation until this time. A handsome stucco house with two storeys and four bays, it was the home of the Marshall family who had made their money in banking.
In 1884 Frederick Gwyther, an electro-plate manufacturer bought the property. It was his widow who sold the house and some of its surrounding parkland to the City Council in 1903 to lay out Ward End Park which opened the following year. The large lake was dug during the winter of 1908-1909 to give relief work to the unemployed.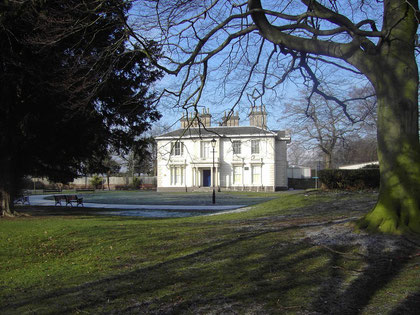 Above: The opening of Ward End Park
Click to enlarge this photograph of police officers and park keepers taken at the opening of Ward End. The image is used here with the kind permission of Dan Drake; it is copyright and must not be reproduced without the owner's permission. On the back of the photograph is written; 'At the opening of Ward End Park, 14th May 1904, 54 acres, cost £1400.00.' Dan's grandfather, Joseph Handley Drake is the tall one on the right-hand side of photo. (He retired as a sergeant and his son Stan, Dan's father also joined the force, becoming a chief inspector.) 
Ward End was a rural hamlet in 1834 huddled around the parish church in St Margarets Road. By 1906 it had increased very little in size or status. Some examples of Victorian housing survive in Ward End, though most existing housing was built in the 20th century. During the early years of that century private terraced development took place along Washwood Heath Road towards Bromford Lane and Stechford Lane. Streets of small working-class housing were laid out east of Ward End Park before World War 1, and building continued eastwards and northwards after the war. Soon after World War 2 the Ward End Hall estate around Washbrook Road was developed for municipal housing.
See also the Fox & Goose.