Warstone
B18 - Grid reference SP059877
Horenstonfeld: first record 1390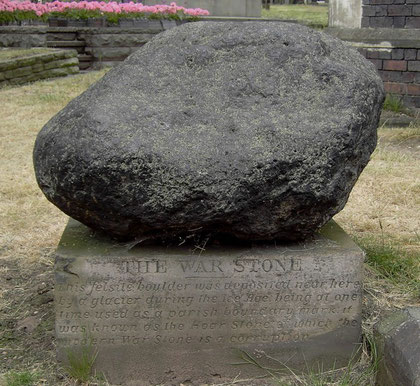 Horenstonfeld, from Old English har stan feld, means 'boundary stone field'. (Warstone is  a name also found elsewhere.) This is the point where the manors of Aston, Birmingham and Handsworth met. The hoarstone, a glacial erratic can still be seen on Warstone Lane in Warstone Cemetery.

This is not a district but a streetname and location in Hockley.
Left: text on the plinth - "The War Stone - This felsite boulder was deposited near here by a glacier during the Ice Age; being at one time used as a parish boundary mark, it was known as the Hoar Stone of which the modern War stone is a corruption."

See also Warstock above.
William Dargue 27.02.09/ 02.08.2010