West Heath
B31 - Grid reference SP029776
West Hethe: first record c1270
So-named in the 13th century as heathland on the west side of Kings Norton manor, West Heath lay around the junction of Alvechurch Road and Redhill Road and Lilley Lane where some older Victorian houses remain. Due to the infertile and quick-draining nature of the underlying soil there are a number of heaths in this area including, from west to east, West Heath, Walkers Heath, Headley Heath, Highters Heath and Truemans Heath.
The heath is mentioned AD 849 in the Anglo-Saxon lease of land at Cofton by Bishop Ealhun of Worcester to King Berhtwulf, though not by name. The modern West Heath district lies east of Alvechurch Road. Although there was a small village around Lilley Lane by the First World War, this district did not see concerted housing development until after the Second World War.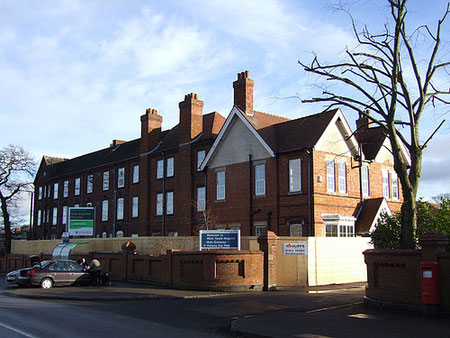 West Heath Hospital opened as Kings Norton Infectious Diseases Hospital in 1889 treating such illnesses as diphtheria, scarlet fever and smallpox.
The last smallpox case was treated here in 1906 and from 1910 the hospital admitted tuberculosis patients, becoming exclusively a TB hospital, known then as West Heath Sanatorium, from 1920. Other chest infections were also treated from 1954 when the name was changed to West Heath Hospital.
In 1965 a geriatric ward was opened, a new geriatric block was built in 1972 and the hospital became exclusively a facility for the elderly in 1980. 
The Man in the Moon public house was built in 1937; it was renamed The Man on the Moon in 1969 to commemorate the first American moon landing.
St Anne's church was established at the junction of Alvechurch Road and Lilley Lane in 1900 as a mission of St Nicolas, King Norton to serve the hamlet of West Heath. It was a small building in gothic style which now serves as the church hall. In 1942 the church was named as St Anne's. The new and present church was consecrated in 1975.

St John Fisher Roman Catholic Church on Cofton Road was designed in 1964 in a neo-romanesque style by E Bower Norris. On the west wall is a concrete statue by Jonah Jones depicting St John Fisher robed as Bishop of Rochester, his hand raised in blessing, his left holding a quill pen symbolising his academic writings.
William Dargue 26.02.09/ 19.01.2021