Walkers Heath
B38 - Grid reference SP055785
le Walkerishethe: first record 1314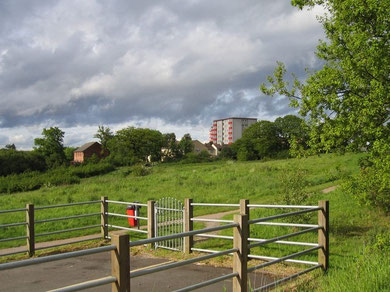 Lying around Walkers Heath Road east of Kings Norton, Walkers Heath was developed for municipal housing in the early 1970s at a time of very long waiting lists for council properties. Recorded as le Walkerishethe in 1314, its name derives from a family name. John son of Richard le Walkere de Kyngesnorton was documented here in 1340.
Due to the infertile and quick-draining nature of the underlying soil there are a number of heaths in this area. The heathland here lay between Bells Lane and Walkers Heath Road.

Roman evidence
In 1949 on Parsons Hill near Ardath Road a find of Roman pottery sherds was exposed by bulldozers during building work and noted by Mr M J Nixon, a teacher at Kings Norton Grammar School. The pottery dated from the late 1st century to the 3rd century.
Later excavation showed evidence of a settlement site with gravel surfaces and evidence of fire. That site has since been dug out.
On Longdales Road an archaeological dig in 2000 discovered an unusually large farm site close to the road from Alcester, Icknield Street. A square farmyard surrounded by ditches had a cobbled surface and a circular timber building. Next to the farmyard were more timber buildings, including a large barn. Pottery sherds give an occupation date from the 2nd to the 4th century. Much of the pottery, bowls, tankards and mixing bowls had been made in the Birmingham area, although some had come from further afield, from Gaul (modern France) and the Mediterranean.
Intriguingly the ditched farmyard seems to have been too large to have been an ordinary farm and may have served as a collecting depot for animals from surrounding farms, perhaps before they went to the market at Alcester. A geophysical survey beyond the excavation revealed yet more ditches surrounding possible animal enclosures as well as a road which led onto Icknield Street.
Off Walkers Heath Road the medieval moat at Pool Farm was excavated between 1949 and 1956 by pupils of Kings Norton Grammar School under the above-mentioned Mr Nixon. The site is now occupied by the Cavendish Tower block of flats and there are no visible remains. However, still standing is Walkers Heath Farm on Longdales Road off Gay Hill Lane. The barn and outhouses are built on the site of the 13th-century house of William de Walker. The present farm is largely late 17th-century, but it has been built around a 16th-century timber frame. The cart shed is 18th-century and is Grade II Listed. 
Moundsley Hall lay well back from the junction of Walkers Heath Road and Druids Heath Lane. This was a timber-framed manor house which had been built some time before 1521, but which was encased in brick in the 19th century. During the course of its demolition c1939, the unsuspected timber frame was revealed. A new house, a home fopr the elderly, was built east of the original site. However, the 19th-century
Moundsley Lodge still survives and has been given a Grade II Listing. See Moundsley.
Moundsley Hall in 1936. Thanks for the use of this image to E W Green, Historic Buildings in Pen & Ink - The Work of William Albert Green. 
William Dargue 28.02.09/ 01.08.2010