Winson Green
B18 - Grid reference SP042885
Wynesdon: first record 1327
The name of this district is over a thousand years old and may derive from an Anglo-Saxon personal name. Wine's dun may mean Wine's Hill. Alternatively the name may be winn dun meaning 'meadow hill'. The Anglo-Saxons had various words for hills according to their shape. A dun may be described as whale-shaped, though it is difficult to determine where this might have been. The element 'green' added during the Middle Ages suggests that this land was common grazing for local livestock owners.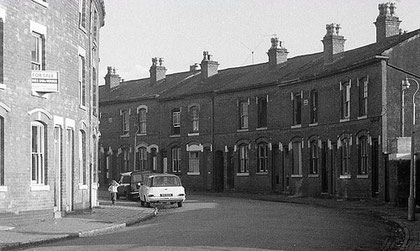 The west of Birmingham lies on sandy pebbly soil. Much was formerly heathland covered with long tough grass with bushes and few small trees.
Nomadic Stone Age people used the pebbles as tools, but the light soil is not particularly good for farming as it drains quickly, loses nutrients and is prone to drought. Where there were pebbles early farmers would have found difficulty ploughing, though sandier soils would have been much easier.
Birmingham Heath
Winson Green was a location at the west end of Birmingham Heath. The heath lay roughly between the Dudley Road and Soho Road. In the 18th century, such waste was seen as an agricultural development opportunity when, in common with many heaths elsewhere, it was enclosed. The green of Winson Green lay near the junction of Winson Green Road and Handsworth New Road.
There was some industry here prompted by the Birmingham Canal which cut through the southern part of the heath in 1769. Between Heath Street South and the canal, Park Glass House was built by Isaac Hawker in 1787. Originally a glass cutter near the Bull Ring, he found the canalside out-of-town site more convenient for the transport of his delicate products.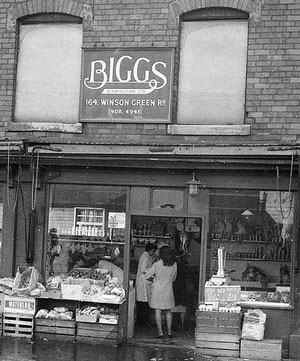 In 1798 Birmingham Heath was sold off by the manor as separate fields. Urbanisation began with a few high-class country houses built here away from the smoke of the industrial town, but close enough for easy access via the Dudley and Wednesbury turnpikes.
In the middle of the 19th century a large part of this area was used to build borough's prison, lunatic asylum, workhouse and fever hospital. Land in the crowded town was at a premium.
By 1888 the area was built up largely with working-class housing joining up with urban development from Smethwick and Handsworth. By this time the name of Winson Green no longer referred to a location but to district which covered most of the former Birmingham Heath. Although large parts of the district were redeveloped from the 1960s, Victorian streets can still be seen here. 
Right: Biggs the grocer's on Winson Green Road c1974. Image downloaded with the permission of Matt Chambers from Flickr. 'All Rights Reserved'. 
Below: Winson Green Road in the early 20th century and late 20th-century houses in Talbot Street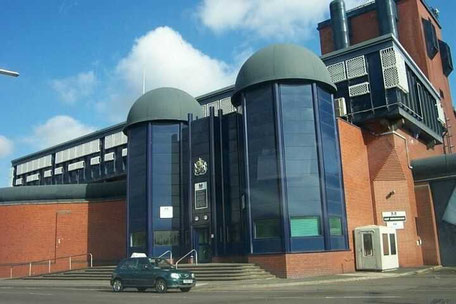 Winson Green Prison
The first great development here was the building of the borough jail on Winson Green Road. When In 1806 the old jailhouse closed in Peck Lane, now the site of New Street Station, prisoners were transferred to a new prison in the new Public Offices in Moor Street, now the site of Moor Street Station. But as the population of the town grew, so did that of the prison, and in less than fifty years greater provision was necessary.
Winson Green Prison marked a significant move out of the town. Built by D R Hill in 1849 in a gothic style, the entrance was designed as the gatehouse of a medieval castle.
Much of the prison has been rebuilt and altered in succeeding years especially during the second half of the 20th century. The Grade II Listed gatehouse was replaced and is currently removed to storage. HM Prison Birmingham now serves the Crown and Magistrates' Courts of Birmingham, Stafford and Wolverhampton and the Magistrates' Courts of Burton, Cannock, Lichfield, Rugeley, Sutton Coldfield and Tamworth. The prison is designed to hold some 1400 male prisoners, largely remand and trial prisoners, but it also has four wings for sentenced Category B and C prisoners.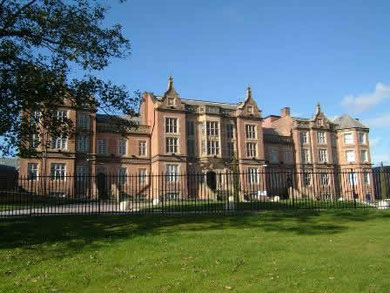 Nearby on Lodge Road the Borough Lunatic Asylum was also under construction. This was also by Hill but designed in a Tudor style. A walled farm was built next to the asylum to provide healthy open-air work for the patients. The asylum saw continuous extension for a quarter of a century after it opened and there have been many additions since then. The buildings continued in use as All Saints Hospital until the year 2000 when new hospital buildings were built.  The old main building still stands. The hospital's east buildings were originally the Borough Hospital for Smallpox and Scarlet Fever which was built in 1883. It is difficult now to imagine the scale of the enterprise on Birmingham Heath.
At the same time as the prison and lunatic asylum were being built, so was the Birmingham Union Workhouse. Standing alongside the the Dudley Road with its entrance in Western Road, it replaced the workhouse built in 1733 in Lichfield Street, now the top end of Corporation Street. The late 18th-century Birmingham Heath windmill was demolished to make way for J J Bateman's Tudor-style building. Originally built to house 1100 inmates, by 1881 its population was more than double that number. Poverty led to illness and gradually much of the workhouse was taken over by sick wards. Now only the entrance lodge survives, the so-called Gateway of Tears, and this is cuirrently out of use.
In 1889 the Workhouse Infirmary with 1100 beds was added in a pavilion plan, a model proposed by Florence Nightingale. A single corridor over 400 metres long linked nine separate wards in buildings placed alternately either side.

The facility became Dudley Road Hospital c1922. There have been innumerable alterations but many Victorian buildings survive. A large extension was opened in 1966 to house the Casualty and Out-Patients Department. Five metres up the wall a bronze statue twice life size called 'Compassion' depicts a mother with out-stretched arms guiding the first steps of her child. It was made in 1968 by John Bridgeman, Head of Sculpture at the Birmingham College of Art. This is now the City Hospital.
Images below :
Ordnance Survey map of Winson Green 1903. The original map is in the public domain being over 50 years old. 

Architect's bird's-eye view of Birmingham Workhouse c1852 designed by J J Bateman.

W H Ward's infirmary erected west of the workhouse in 1888.
The two images from the Workhouses website are used with the kind permission of Peter Higginbotham. All Rights Reserved. 
As housing in the area began develop, St Cuthbert's Church opened in 1863 on Winson Green Road. This brick building with stone dressings was designed by Bateman & Corser in decorated gothic style was not consecrated until 1872. It was hit by a German bomb during World War 2 and subsequently demolished c1960.
On the Dudley Road St Patrick's Roman Catholic Church was built by Dempster & Heaton in 1895 in red brick with stone dressings in gothic style. The arcades of this Grade II Listed building are of red sandstone and there is an elaborate altar canopy.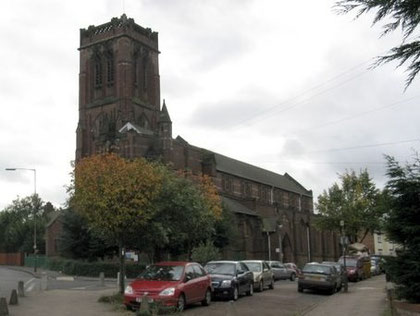 Take a look at Bishop Latimer Memorial Church. Designed by W H Bidlake in red brick in a perpendicular style it was consecrated in 1904. This is a large Grade II* Listed church which has a very tall nave and a massive square balustraded tower. Internally the finish is buff brick but with painted fresco work above the south-east arch of the south arcade. Unusually there is an immersion font at the west end.
A bell by Taylor's of Loughborough was hung here 1904 with the intention of creating a ring of 10 which was never achieved. The 1776 bells of the demolished St John's Deritend were recast as seven to make a ring of eight here by 1958. These bells were transferred to St John's Church, Perry Barr in 1972.

Barford Road Board School was opened 1887 by Birmingham School Board for 1180 infants, juniors, senior boys and senior girls. The school was reorganised as senior boys and infants in 1932. The boys department became Barford Road Boys County Modern School in 1945 and in 1961 had 285 pupils on roll. The buildings were damaged by German bombs in 1940. In 1960 the school was organised as a junior and infant school, Barford Road County Primary School with 6 classrooms.
Soho Road Board School, which was renamed Benson Road Board School in 1895, was opened in 1888 by the Birmingham School Board for 962 children. It was the first Birmingham school to have a class for children with severe special needs. It is built in red brick with terracotta dressing in Victorian gothic school style and has large pointed windows and a central spire. The school is a Grade II Listed building.
Also Grade II Listed is Handsworth New Road Board School built in 1901 by H Buckland & E Haywood-Farmer for Birmingham School Board to accommodate 1100 children. This was Buckland's first major commission which he won by competition; he succeeded the practice of Martin & Chamberlain as the Birmingham Education Department architect. The school was closed in 1990 and has since been converted into residential apartments.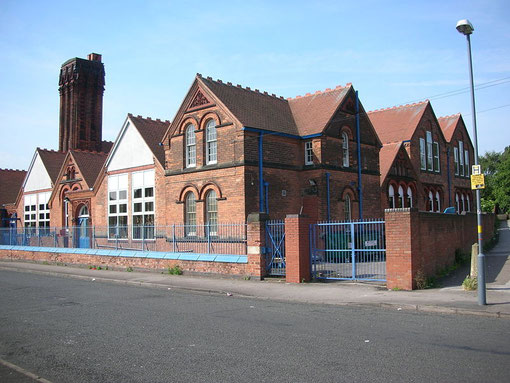 William Dargue 22.02.09/ 21.01.2021