Welshmans Hill/ Welchmans Hill
B73 - Grid reference SP092948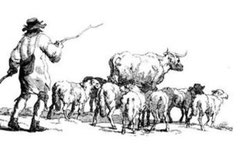 It is likely that this name refers to the trade in cattle from Wales which is documented as early as the 13th century. From the 17th century the trade was a major factor in the Welsh economy with many thousands of cattle being brought for sale for fattening on the fertile pastures of the Midlands or driven on to London.
In spring and autumn large herds of cattle were driven from Wales to the Midlands and London. The heyday of cattle droving was between the years 1700 and 1850, as the English cities began to industrialise. Before the coming of the railways some two million beasts were driven south every year.
Some 18th-century drovers avoided turnpiked roads wherever possible as the tolls were a major expense on their journey. The alternatives, however, were often circuitous and longer. Drovers from North Wales would have used the Chester Road Turnpike set up in 1759.
With a speed of travel as slow as 2 miles per hour, nightly stop-overs were made and would have had to be paid for. Welshmans Hill at New Oscott off the Chester Road North near Sutton Park may have been one such, before the cattle were driven into Birmingham the next day.
Many cattle were reared on the island of Anglesey and had to face a swim the Menai Straits at low tide, some 300 at a time. In 1794 14,000 cattle made the crossing. The drovers would take their herds to Shrewsbury where they followed Watling Street (now the A5) as far as Brownhills where they heading towards the ford across the River Tame at Castle Bromwich. Here cattle bound for London followed the Chester Road to Stonebridge, to Kenilworth (now the A452) and via Southam and Buckingham along what are now minor roads.
Drovers bringing cattle for sale in Birmingham went from Castle Bromwich via Hodge Hill and Washwood Heath.
See also The Welsh End.
William Dargue 27.02.09/ 18.04.2016