Whateley Green
B36 - Grid reference SP156899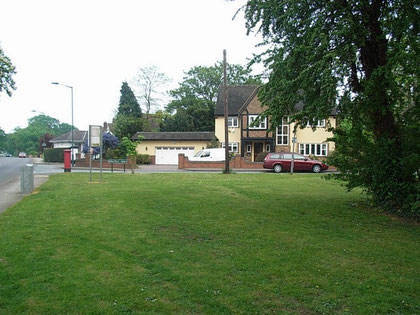 Known as Wheatley Green in the 18th century, this is now a triangular location in Castle Bromwich at the junction of the Chester Road and Water Orton Road. The name derives from the Old English for 'wheat clearing', hwaete leah, and is probably medieval.
The most common cereal crops grown in the Middle Ages were rye, oats and barley grown on light gravelly and sandy soils which give a higher yield than clay soils. The land around here must have been more suitable for growing wheat, a crop which brought a higher price than other cereals. However, there was certainly poorer land in area of the green itself.
Whateley Green was the site of the medieval Castle Bromwich pound for stray farm animals; a map of 1864 shows the pound as well as stocks and a whipping post.
Above: Whateley Green. Water Orton Road runs to the left of the picture; the Chester Road is out of sight on the right. The single-story white house just visible behind the pillar box was the lodge of Whateley Hall.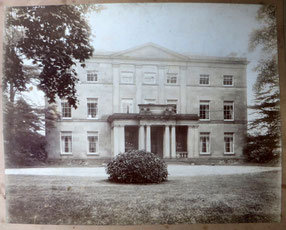 The Sadler family who owned the neo-classically designed Whateley Hall found their rent increased by the Bradford estate when they enclosed land 'from the waste' to increase the area of their pleasure grounds. Whateley Hall lay close to the green and the lodge still survives.
In 1851 William Newton was living at Whateley Hall with his wife Mary and their six children. He was a partner in the successful business of Newton, Johns & Willis, a firm trading in Irish linen, silk and church furnishings. Frederick Knight was living at Whateley Hall by 1881 with his wife Clara and their three daughters. In 1862 Frederick had set up the paper making company in Birmingham, Messrs. Smith, Stone and Knight (SSK) Ltd with Thomas Bird Smith and John Benjamin Stone (brother of his wife Clara and of the famous photographer Benjamin Stone) one of the largest producers of brown paper and paper bags in the country. the Smurfit Kappa SSK Paper Mill still exists at Nechells.
Whateley Green is known locally as 'Conker Island' for obvious reasons.