Wiggins Hill
formerly in Warwickshire - one of the Domesday manors of Birmingham
B76 - Grid reference SP167931
Winchicelle: first record in the Domesday Book 1086, Wiginghull c1200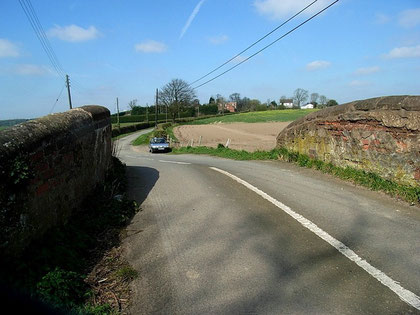 This settlement is still a rural hamlet, probably not much bigger than it was a thousand years ago when the manor of Wiggins Hill was listed in the Domesday Book. The name derives from the Old English Wicga's ing hyll meaning 'Wicga's people's hill'. The 1086 Domesday survey has Winchicelle.
Mesolithic
But there were people living here long before Domesday. Two mesolithic flint cores, from which flint flakes and blades were struck, were found near Wiggins Hill Road. This suggests that over 5000 years ago this was a centre of flint tool manufacture, and therefore of settlement, perhaps a semi-permanent base-camp for hunting. It is interesting to conjecture why here, as flint is not found in our area.

Roman
Also off Wiggins Hill Road many scattered pieces of Roman pottery have been discovered. Broken pottery was usually thrown onto the farm's dung heap and later scattered onto the fields with the manure; clear evidence that a settlement was not far from the present village. And in a small urn buried in the ground was found a Roman coin hoard. This included coins of the emperors Gallienus (253-268), Victorinus (269-271), Tetricus (271-273), Claudius II Gothicus (268-270). Why the coins were buried here sometime after 270 AD and why they were never collected remains an open question.

The Domesday Book lists 3 virgates of land with one ploughteam in the demesne. There were 8 acres of meadow and woodland 2 furlongs long and the same wide. For tax purposes it was worth only 5 shillings.
Bruning/ Browning as the tenant of Earl Thorkell both before and after the Norman Conquest. He was fortunate: most Anglo-Saxon lords were replaced by Norman lords. The overlordship subsequently passed to the Earls of Warwick, who held it until at least 1407. In 1403 ¼ knight's fee was given to Margaret, the widow of Thomas, Earl of Warwick.

For a small manor Wiggins Hill had a complicated descent. William Bonchevaler held Wiggins Hill in 1235 with Cherington near Shipston-on-Stour and Bedsworth near Monkspath as one knight's fee. Four years later Bartholomew de Turbervill conveyed 3 carucates of land at Wiggins Hill and Cherington to William de Wylinton. John de Wylington, his son?, held the fee in 1315, but by 1347 Wiggins Hill was held as ¼ knight's fee by William de Lucy of John de Hull, who held it of John de Wylinton. Baldwin de Bereford held it in about 1362 with Langley, with which it then descended to John Hore, who held 3 dwellings here in 1431. Subsequently Robert Pudsey sold them to Thomas Gibbons of New Hall but in 1589 reserved to himself and his heirs an ancient rent of 46s 2½d.

Wiggins Hill was not specifically referred to as a manor until shortly before 1596 when it was conveyed by Thomas and Francis Gibbons to Edward Burrowes. He conveyed it at that date to Nicholas Wilson. The manor was later divided probably between two co-heiresses. The rights of one descended to Anne wife of Nicholas Wolley and Mary wife of John James. They with Robert Milner and Anne, Anne Wolley's daughter?, and Edward Crompton and Mary, Mary James's daughter?, conveyed half the manor in 1691 to John Addyes, Thomas Homer and the widow Anne Burgoyne. They were probably the inheritors of the co-heiress since the whole manor was conveyed in 1766 by widow Mary Homer, Richard Pitts and Mary his wife, spinster Elizabeth Homer, Edward Felton and Jane his wife, to Richard Geast. The descent thereafter is unknown and was presumably lost.

The first reference to open fields here is in 1418. Wiggins Hill open fields appear on Sherriff's map of 1791 which shows three large fields called Church Field, Wigginshill Field and Greaves Field. The scattered ownership of the selions in Wiggins Hill open fields is preserved on maps as late as 1825.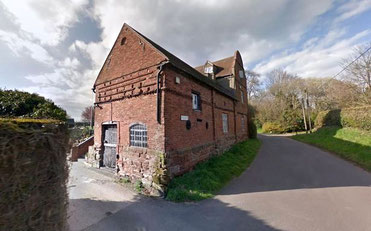 Built at Wiggins Hill in the early 15th-century, Wincelle House still survives, but now stands in Wylde Green Road, Walmley. This is a two-storey timber-framed building which was brought from Wiggins Hill in 1910 by Walter Wilkinson, the owner of New Hall Mill. A house called Elmshurst now stands on the original site. 
Quaker Cottage is the former Friends Meeting House established here c1711; a new building was erected in 1724 and closed in c1780. But there remains in the garden the small burial ground which was used into the early 19th century. The buildings were sold by the sect c1890. All these buildings are Grade II Listed.
 Take a look. Still in situ on Wiggins Hill Road, Wiggins Hill Farm and dovecote are 17th-century brick buildings.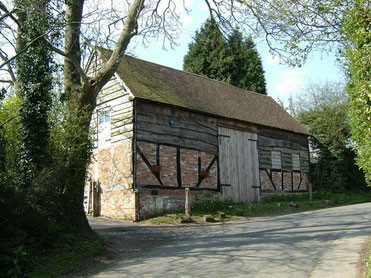 The Old Barn and Old Barn Cottage are also 17th-century timber-framed buildings, the former weather-boarded, the latter infilled with brick.
Right: Wiggins Hill Barn. Image from Geograph OS reference SP1693 © Copyright Mike Beeson and licensed for reuse under Creative Commons Licence Attribution-Share Alike 2.0 Generic. 
William Dargue 24.02.09/ 31.07.2010