Sheldon, Sheldon Heath
B26 - Grid reference SP151846
Scheldone: first record 1189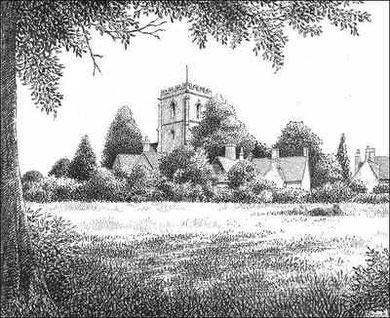 Sheldon church was the village focus of a scattered rural community until after the First World War. The population numbered 423 in 1821 and by 1921 had increased by only 23 persons. In 1931 only 526 people lived here. A Warwickshire manor until 1931, the larger part north of the Coventry Road amalgamated with Birmingham, while the remainder went to Solihull with local government reorganisation in 1974.

In the 1930s work began on large private housing estates at Lyndon Green and at Wells Green. The focus of the area moved to the Coventry Road and an extensive linear shopping centre grew up around the Wheatsheaf Inn at Sheaf Lane. Work began before the Second World War on the Kents Moat council estate east of Yardley village and private building began around the old Sheldon village itself. By the outbreak of World War 2 much of the area was overlaid with housing much of it municipal.
Medieval Sheldon

In the Domesday Book the manor was known as Machitone, later Mackadown, whose village centre was at the junction of Mackadown Lane and Tile Cross Road. Settlement in the manor expanded in the Middle Ages so that by the 12th century there was a moated manor house at Gressel Lane in Tile Cross known as Sheldon Hall or East Hall, a West Hall at Kents Moat, while the parish church and a small village stood on Church Road with other moated halls close by. One such was the predecessor of Moat Farm off Church Road south of Westley Brook. This was demolished in 1960 and the moat was filled in.

Open fields
The earliest open fields were in the north of the manor at Mackadown with later open fields near St Giles Church. Sheldon Field lay east of Sheaf Lane, south of Westley Brook and north of the Coventry Road. Adjoining it east of Hatchford Brook was Greatock Field (ie. 'great oak field'). Just over the churchyard's east wall can still be seen the distinctive ridge and furrow marks of the strips of this medieval field . Hatchford Field which lay east of Hatchford Brook and north of the Coventry Road has never been built over and is now a golf course. By the end of the Middle Ages the manor had some dozen open fields feeding an expanding population.

In 1848 Samuel Lewis's Topographical Dictionary of England described the agriculture of the parish: of 2497 acres 1446 were arable, 475 were pasture, and 576 were meadow. The chief produce was wheat, barley, beans, and turnips: oak is the prevailing kind of wood.

The manor's Anglo-Saxon name means 'shelf hill'. More precisely, a scylf was a flat-topped hill, while a dun might be described as a whale-shaped hill ie. round and bulbous at one and thinning out at the lower end. Could this refer to the interfluvial ridge north of Westley Brook, with Platt Brook (See The Radleys.) to the north.
Descent of the manor
In 1086 Sheldon was held by the Anglo-Saxon overlord, Turchil of Warwick. As with most of Turchil's estates, the overlords of Sheldon from 1235 to 1400 were the earls of Warwick. The manor probably came, with Coleshill, to Geoffrey de Clinton during the reign of Henry I r.1100-1135. Geoffrey's daughter, Lescelina married Norman de Verdon and took with her the ½ knight's fee. Rose de Verdon held the ½ knight's fee in 1242 and Theobald de Verdon 1315-1316. After Theobald's death it was assigned in 1344 to his second daughter Elizabeth and her husband Bartholomew de Burghersh. In 1390 both the East Hall and West Hall manors of Sheldon were held by the heirs of John de Arundell, representatives of the second daughter of Theobald de Verdon.
Alnoth was the tenant in 1086 – he was one of the few Anglo-Saxons in the area to hold a manor after the Norman Conquest. The first recorded tenant after Alnoth was Ansel de Scheldon, lord of 'Makinton' in 1220, who held the ½ fee in Sheldon certainly between 1235 and 1242. He was succeeded by his son Henry, who in 1260 conferred a messuage (house) and 2 acres of land here on William, the parson of Sheldon. Henry was lord of Sheldon in 1288, and Nicholas de Scheldon was the head of the family in 1315. He was dead by 1327 when his widow Joan and son Henry released the manor of Sheldon to John de Hotham, Bishop of Ely, for life, or to his executors for 10 years from 1327, in return for a pension of £10 a year to Joan. At the same time the bishop was given the right of free warren in his demesne lands in Sheldon. He is said to have granted the manor to his nephew John, son of Sir John de Hotham, the bishop's eldest brother, and in 1336 the guardian of the young John released the manor once more to Henry de Sheldon, retaining only certain lands there that Henry had granted to John and Ivette his wife.
The manor was settled on Henry de Sheldon and Beatrice his wife and their issue in 1337, and leased by them in 1347 for life to John de Peyto Jnr and his wife Beatrice at a rent of £10 a year. Sir John de Peyto died in June 1373 and presumably Sheldon was dead also since the manor appears to have then been divided between their respective widows. Beatrice de Peyto, also described as Beatrice de Bishopsdon, held for life a manor in Sheldon called West Hall ie. Kents Moat , while Beatrice de Sheldon in 1385 was still holding East Hall, ie. Sheldon Hall.
Meanwhile, in 1336 when the manor of Sheldon was surrendered to Henry de Sheldon, he appears to have had as associate in the transaction Sir John Murdak of Compton Murdak (now Compton Verney), on whom in 1337 he entailed the manor failing issue to himself and his wife Beatrice. At the making of the lease to John de Peyto and his wife, Sir John Murdak reserved to himself £10 a year from the manor after the deaths, without heirs, of Henry and Beatrice de Sheldon. In 1374 his son Sir Thomas Murdak sold his rights in the manor to Sir Roger de Meres, who was succeeded by his son John in 1375. In 1385 John Meres Snr sold his rights in the manor of East Hall to Ralph, Lord Basset of Drayton, who died in 1390 seised of both East Hall and West Hall. His heirs were his distant cousins Thomas, Earl of Stafford, and Alice, wife of William Chaworth, but he had devised his Sheldon manors, among others, to his nephew Sir Hugh de Shirley. In 1403 Edmund, Earl of Stafford, cousin and heir of Ralph Basset, lord of Drayton, undertook to deliver these manors and others to Sir Hugh Shirley; and in 1424 one of the feoffees of Ralph Basset's will released them to Sir Ralph Shirley and his heirs.
Sir Ralph held these manors in 1431 as ¼ knight's fee. By 1439, however, they were in the possession of Humphrey, Earl of Stafford, afterwards Duke of Buckingham, passing in 1460 to his grandson, Henry, Duke of Buckingham, who was beheaded in 1483. After the attainder of his son Edward in 1521 the whole of Sheldon manor was granted by the Crown to Thomas Grey, Marquess of Dorset. He died in 1530 and his son Henry, Duke of Suffolk, was attainted and beheaded in 1554. In 1559 Queen Elizabeth granted Sheldon to William Gerrard and others, but in April 1575 she restored it to Henry Grey to hold as 1/20 knight's fee at a yearly rent of £167 4s. 9½d. A deer park I mentioned at this time. Henry Grey sold his rights to Sir George Digby, who was holding this manor at his death in 1587. It appears to have been involved in some dispute between the Digby and Mountfort families, as were Coleshill and Kingshurst manors, and is said to have been settled in 1601 by William Mountfort on his son Sir Edward and his wife. Sir Robert Digby was holding the manor of Sheldon in 1610, from which time it descended with Coleshill until the mid-20th century, when it was sold to a speculative builder.
In 1336 John de Hotham and Ivette his wife granted the manor to Henry de Sheldon. John's daughter Alice died in 1379, holding 100s. rent in Sheldon. Hugh le Despenser, her son by her first husband, was similarly holding £8 rent there at his death, without issue, in 1401 when it passed to his sister Anne, who with her husband Sir Edward Botiller settled it in 1404, as the manor of Sheldon on Sir Hugh's widow, Sybil, for life. From this time this manor of Sheldon descended with Solihull passing in 1530 to Sir George Throckmorton and in 1614 from Thomas Throckmorton to Roger Digby.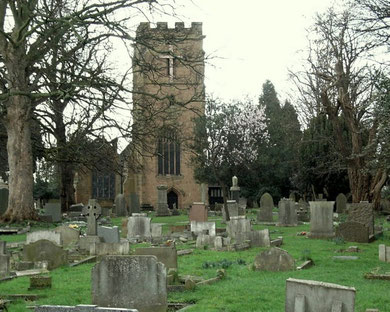 Well worth a look - St Giles' Church
 
A typical Warwickshire country church and, for the most part, a surviving 14th-century building, this is one of Birmingham's ancient parish churches, and has Grade II* Listed status.

Although an earlier building is possible, the most ancient part of the church is the chancel arch which dates from the end of the 12th century. The nave of 1330 has fine carved roof, with the north aisle added some twenty years later.
In 1461 the nave was extended and the embattled west tower was built probably using stone from the derelict West Hall at Kents Moat. On the south wall inside the church is an inscription:
In . . . yr of our lord M CCCC lxi [1461] ye stepel was begon ye masson had thr[ee] and forti pond vis [6 shillings] and viiid [8 pence] for makyng of the st'pel.'
Another inscription reads:
'Henry Ulm ye/he? of [?Horsod] M CCCC lxi [1461] yt to begon'. 
Henry Ulm also built the tower of Yardley church. The timber-framed south porch was added in the early 16th-century.

In 1867 in a major restoration, the nave was partly and the chancel completely rebuilt. At the same time the restorers removed all the 18th-century internal arrangements such as high pews which were considered by the Victorians as unchristian clutter which detracted from the gothic. The church was restored largely to its medieval appearance. Still surviving from the 15th century is the octagonal font and the reredos which was reset in the north wall. The figures of the Annunciation were removed at some time, possibly during the Civil War, but their silhouettes can be seen.

There were formerly four bells here in an old wooden frame including the present fourth cast by Joseph Smith of Edgbaston in 1732, the fifth (now the 7th) cast at an unknown foundry c1350 and believed to be the oldest bell in Birmingham, and the tenor by Thomas Newcombe of Leicester c1580. The ring was remodelled as six in 1992 with two new bells by Taylor's of Loughborough and a redundant bell from St Gregory the Great in Small Heath added as the treble. This bell was one of the last to be cast by Carr's of Smethwick.They were hung in a new steel frame lower in the tower with the old wooden frame retained for historical interest. In 2010 two new trebles of 2007 and 2008 were hung to make a ring of eight. 
The burial registers date from 1558 but evidence was found during the 19th-century restoration that the churchyard had been used from medieval times. A 13th-century stone coffin lid was discovered carved with a plain cross. Such a coffin would have belonged to a person of some wealth, possibly the lord of the manor.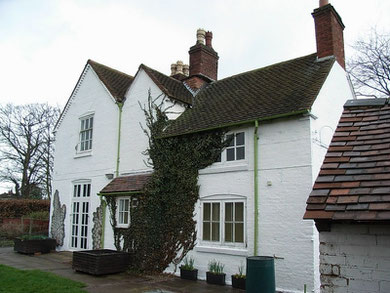 Worth a look - Old Rectory Farm

South of St Giles' Church in the paddock south of Rectory Farm was a moated hall which may have been the medieval rectory. Earthwork evidence of a moat is discernible in the right conditions to an expert eye. This was replaced probably in the 17th century by a timber-framed hall in Ragley Drive off Church Road now known as Sheldon Old Rectory or Old Rectory Farm.

The timber-framing was infilled with brick in the 18th century and building rendered to its present appearance. The farm buildings and outhouses are part of Sheldon Country Park, a children's farm and the home of a variety of livestock.

For forty years from 1690 the Rectory was the home of Dr Thomas Bray. He founded the Society for the Propagation of the Gospel in Foreign Parts and worked extensively in Maryland USA. A state flag in Birmingham Cathedral was presented in recognition of his efforts in promoting Christianity in the United States. He also founded the Society for the Promotion of Christian Knowledge SPCK in 1698 and was instrumental in setting up via the SPCK the National Society for the Education of the Poor in the Principles of the Established Church throughout England and Wales. Its affiliated schools known as National Schools were Church schools, many of which still exist, and precursors of the state system which was not set up until 1870.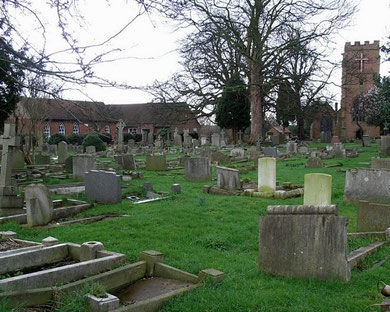 Sheldon Free School

North of the church was built a charity school which was already well established in 1730 when Lord Digby gave funds to support the education of the poor children of Sheldon. In 1833 there were forty children on roll including ten from an adjoining parish. The school building which still stands at the rear of Nos.151-153 Church Road is 18th-century in appearance though an inscription reads 'Gift of Edward Earl of Digby 1852'. The school became certified efficient in 1895, and a public elementary school in 1920. However, by 1932 the school was overcrowded due to new housing developments and was reorganised for juniors and infants only.

The school closed in 1937 to be succeeded by Stanville Road Council School although the building continued in use as an annexe of Stanville for some years afterwards. The rectory, school and 18th-century farmhouse and outbuildings next door are all Grade II Listed buildings.

Sheldon Heath lay about a mile north of Sheldon village towards Garretts Green on the other side of the Kingshurst Brook. It is an area of glacial drift, rather quick to drain and not very fertile farmland.
See also Wells Green.
Click to enlarge the images in the Sheldon Gallery below.
William Dargue 10.03.2009