Smarts Hill
B26 Grid reference SP137854
First record 1745
Smarts Hill rises up to the Yardley ridge from Barrows Lane and Moat Lane where a field at the junction is called Smarts Hill Piece on the Yardley tithe map of 1843. The name probably derives from a family name. Described a parish land in 1745 in the Poor Rate Levy, the Yardley Land Tax Assessment of 1787 shows the land here owned by the Yardley Trustees and occupied by William Hopkins. A lease of 1827 describes this as arable land.
What was later called Smarts Hill Brook rises north of the junction of Church Road and the Coventry Road. Flowing over clay this created a waterlogged route in the winter months and a raised causeway was made. A section of road by this name was removed by the recent supermarket development. Around what is now the east end of Bilton Grange Road, Smarts Hill Brook joined with Lyndon Green Brook to form Lyne Lake, probably artificially dammed in the Middle Ages to create a fish pond.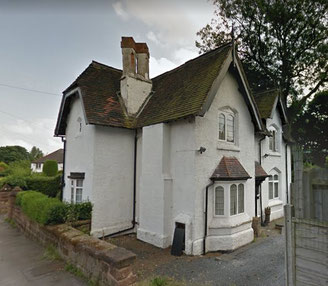 During the 19th century a number of mansions were built in spacious grounds in the area. Thomas Telford had improved the Coventry turnpike in the early 1820s making Birmingham accessible to wealthy business people and industrialists who wanted to live in some style in a rural area. The Croft (later The Poplars) which stood in very extensive grounds, had gone by 1938, Charlbury Crescent and Bilton Grange Road having been built on the site. Its lodge c1840 still stands in Lodge Drive off Barrows Lane. 
The large houses were sold off to build estates of private housing in the 1930s.
Right: The lodge of The Croft/ The Poplars in Lodge Drive. Image from Google Maps Streetview.
William Dargue 09.01.2010/ 18.08.2012