William Dargue  A History of BIRMINGHAM Places & Placenames from A to Y
St Andrews
B9 - Grid reference SP090864
First record c1846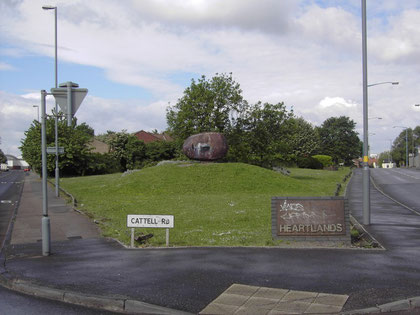 St Andrews is the home of Birmingham City Football Club, the Blues. Members of Holy Trinity Cricket Club in Bordesley had rented a ground in Muntz Street to play football as a way of keeping fit throughout the winter. Known as the Small Heath Alliance Football Club, they had a pitch in 1875 on the site of former claypits near St Andrew's Church. (See also Garrison Farm, Kingston Hill and Small Heath.)
The club became Birmingham City FC in 1889. The stands were extensively rebuilt during the last years of the 20th century.

At the junction of Cattell Road and Garrison Lane lies the head of the Sleeping Giant, a sculpture created in 1992 by Ondré Nowakowski and one of a number of public art works commissioned by the Heartlands Development Corporation. It is a large head in cast-iron lying on its side. Being close to the St Andrew's ground, the fans, known as blue noses, often paint his nose blue.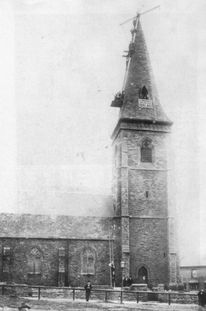 St Andrew's Church stood near the junction of St Andrews Road and Ada Road until c1984 when it was demolished. This was R C Carpenter's second Birmingham church, consecrated in 1846 and the fifth and last to be built by the Birmingham Church Building Society. Built in red sandstone in decorated gothic, it was considered an excellent example of its type and had all the appearance of a small country church. After closure the parish was amalgamated with that of St Aidan's in Small Heath. 
St Andrew's National Infants School was a church school opened on Watery Lane in 1846, though the building was not finished until 1850 when accommodation was a schoolroom and classroom with accommodation for 200 children. The school was entirely supported by the vicar until 1866 when it received annual government grants. The school closed in 1876.  
It was not until nearly ten years later that Ada Street Board School was opened by the Birmingham School Board. This building had accommodation for 1025 children.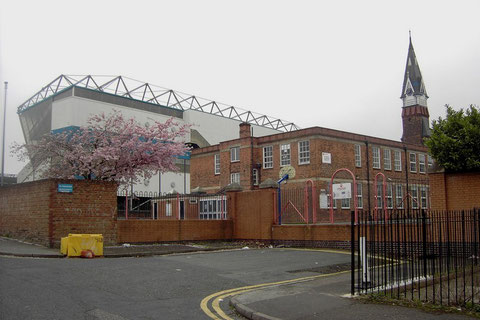 This building had accommodation for 1025 children. The school was remodelled in 1928 taking on its present appearance and reorganised for senior boys, juniors and infants. The senior boys' department became a separate school in 1945 and was renamed St Andrews County Modern School in 1954.

In 1961 there were only 330 boys on roll. The school closed c1975 with the opening of a new Small Heath Comprehensive School in Muntz Street. In 1961 there were 12 classes at St Andrews County Primary School but the numbers dropped dramatically during the late 1970s as the area was progressively demolished. Along with extensive housing redevelopments in the area, the buildings were completely refurbished in the 1990s. The school is registered on Birmingham's Local List of buildings.

This area was part of Bordesley and developed as rows of small terraced houses with many back courts. By the 1970s much of the housing had deteriorated into unacceptable slum dwellings and was demolished wholesale during the following decade. By the end of the 20th century parts of the district had been zoned for light industry while much of the remainder was developed as Bordesley Village.
William Dargue 10.03.2009