Short Heath
B23 - Grid reference SP105930
First record 1840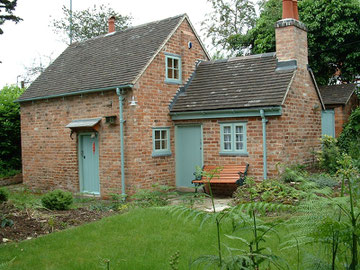 A rare survival in Short Heath is the Jerrys Lane Hovel, a primitive farm labourer's cottage of the 18th-century. The Hovel is typical run-of-the-mill housing of its time: plain plank doors survive, with a cast-iron cooking range in the living room, and a hob grate and brick copper in the back kitchen. It is the type of house in which very many people would have lived, but of which few survive. The Hovel is a Grade II listed building and was restored and sold as a private residence in 2001.
Right: Photograph copyright Mike Allmey and used with his permission. See Acknowledgements for a link to the Pictures of England website and Mike's article on the history and restoration of the Hovel.
The 'short heath' itself was in the Short Heath Road area east of Turf Pits Lane. Much of the land here was open waste, agriculturally unproductive, lying as it does on sandy pebbly soil that is quick to drain and dry out. The land was enclosed in 1801 and the pattern of the main roads in the area date from this time.

Short Heath lies to the west of the Birmingham-Sutton Railway and was first developed residentially before the First World War. After the War further housing development extended as far as College Road, Perry Common, a route which had formed the ancient boundary between Aston in Warwickshire and Handsworth in Staffordshire.
Short Heath Park was laid out after the First World War, but it was after the Second World War that most of the housing development in the area took place. Short Heath is now a large residential area with no clear central focus.

See also Goosemoor.
William Dargue 09.03.2009/ 02.08.2010