Shard End
B34 - Grid reference SP152885
First record: atte Sherd 1327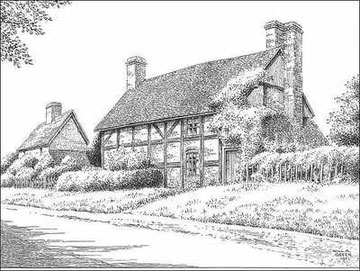 This post-war housing estate has an Anglo-Saxon name. Its earliest recorded form, atte Sherd derives from atte 'at the' sceard meaning 'the gap', but it is difficult to envisage now what this meant twelve centuries later - gap in the woodland perhaps? The second element of the name originates in the fact that this was the Shard End of the manor of Castle Bromwich from before the Norman Conquest.

This was a rural area on the fringes of the city when Birmingham took It over in 1931 with plans to build houses for residents displaced by extensive inner-city slum clearances.
However, it was not until after World War 2 that this became the city's largest municipal development with nearly four thousand houses built eastwards from Hodge Hill Common between the Coleshill Road, Bradford Road, Chester Road and the River Cole. The estate was spaciously laid out.

A village centre was created around Shard End Crescent with shops, library, a public house and a church. This was rebuilt in 2011 and remains an important focus for the district.
After World War 1 the Midland Sand & Gravel Company had worked a gravel pit off Packington Avenue. After the the Second World War, the area was landscaped and laid out as Norman Chamberlain Playing Fields. The gravel pit filled with water from a natural spring to form Shard End Lake. There is fishing here and a base for the local Sea Cadets. This area now forms part of the Kingfisher Country Park.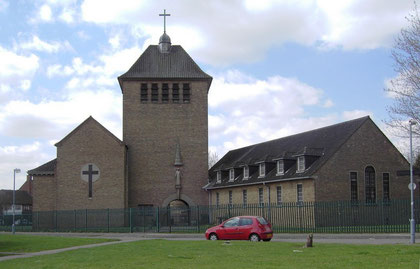 All Saints' Church
This large brown-brick building with tall narrow windows and a massive square tower was designed by F J Osborne, and opened by Queen Elizabeth II in 1954. It was the first Anglican church to be built and consecrated in England after the Second World War, and was considered the successor of All Saints Church in Cooksey Road, Small Heath which had been destroyed by German bombs. A cloister under the tower connects the church and church hall; inside tall brick columns are patterned to give a twisted effect. A stone statue under a canopy over the main entrance by William Bloye is contemporary with the church and depicts a penitent Christ in a loose coat tied at the waist with a rope.
Coin hoard
In 1909 a Roman coin hoard was unearthed in a field belonging to Mr Wood at Shard End Farm. A rough clay pot was found to contain two hundred silver denarii with coins ranging from Nero (54-68) to Commodus (180-192); some of the coins were forgeries of the Roman period. This represents quite a large sum of money: at that time a Roman legionary earned about 300 denarii a year. A selection of coins from the hoard may be seen in Birmingham Museum. Who knows what unrest had caused the wealthy owner of an undiscovered villa here to bury his treasure, and never to reclaim it?
William Dargue 10.03.2009/ 28.12.2020