The Swan, Yardley
B25/ B26 - Grid reference SP126848
First record 1605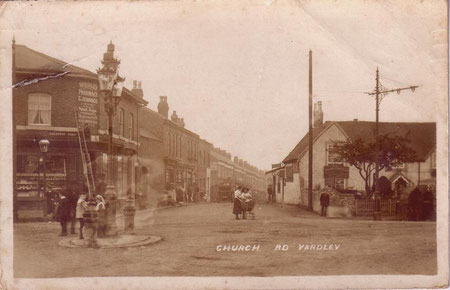 The Swan is a road junction named after the public house which stood on the Coventry Road at Yardley Road from Stuart times. A public house known as the Swan was certainly here by 1605.
The Coventry Road has been an major regional route for hundreds of years and here crosses Church Road, itself part of an important local route since prehistoric times. The 17th-century pub stood at angle across the south-east corner of the junction, a small three-gabled building.
Left: The Swan junction - The Coventry Road runs left-to-right with the City Centre to the left); Church Road is straight ahead. The photographer has  his back to the Swan Inn. Thanks for the use of this postcard to JKC on the Birmingham History Forum.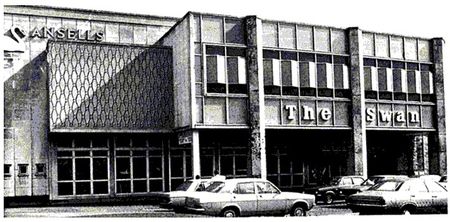 A much larger new pub in a Tudor style was built in 1898 behind the old one which was then demolished.
This was itself demolished and rebuilt in contemporary 1960s style when the Coventry Road underpass was constructed in 1967. The Swan then boasted allegedly the longest bar in Europe.
This building lasted less than 30 years when it was replaced by an office block.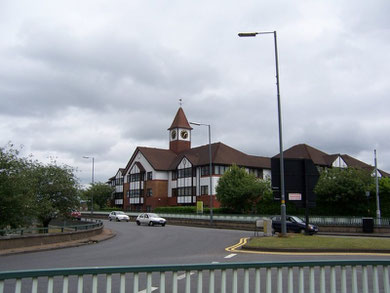 Right: The office block that replaced The Swan.
For permission to use this image thanks to David Fisher - All Rights Reserved. Permission for reuse should be sought from the copyright holder. See Acknowledgements for a link to David Fisher's blog, Brummages.. (or What Is It Like Now?).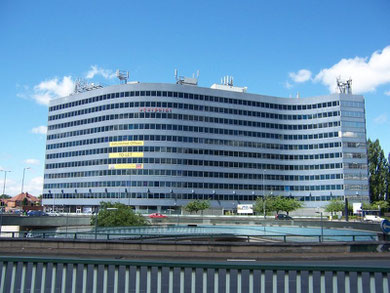 The old junction was a small crossroads with local shops on its four corners. In the late 1960s two blocks were built on the corners of Church Road opposite the Swan, the one a massive curved office block, which has recently been refurbished, the other a large block of flats with the Swan shopping centre beneath, also recently refurbished.
This office block replaced the building on the left of the sepia postcard above and stood diagonally opposite The Swan. The image is courtesy of David Fisher

See Yardley and also South Yardley.
William Dargue 27.10.08/ 28.03.16/ 16.01.2021