Sparkhill
Sparkhill B11 - Grid reference SP093836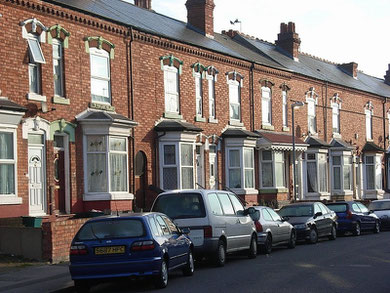 This placename refers to the hill above the Spark Brook; this is a long gentle slope along the Stratford Road from Sparkbrook, which until fairly recently was locally known as 'The Hill'. The district now lies between and around the Stratford Road and the Warwick Road, between the River Cole and Spark Brook. The focus of the area was originally around Baker Street and spread as a residential area as an extension of Sparkbrook.

As with most areas of Birmingham, a scattering of Roman coins has been found here: one in Esme Road, four in Shakespeare Street and, in a back garden in Ivor Road, a bronze coin of of the Emperor Constantine (306-337).
However, there was no known focus of settlement here. A number of farmsteads which are conjectured from the Middle Ages include Shrubbery Farm near Esme Road. Buildings dating from Georgian times survived as Sparkhill Nursery, but the site was built over at the end of the 19th century.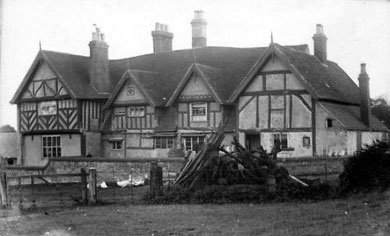 Sparkhill Farm on the Stratford Road opposite Baker Street which was probably of medieval origin was one of the first to be demolished for new housing in the 1880s. 
Also on the Stratford Road between Grove Road and Greswolde Road was Fulford Hall later Grove Farm. This is known from a photograph of 1895 to have been a large four-bay timber-framed building probably dating back to the 14th century. An upper floor and parlour wing were added c1600, a brick-infilled timber-framed service wing half a century later and a brick scullery 19th century. The farm was a holding of Maxstoke Priory until Henry VIII's dissolution of the monasteries when it was bought by the Greswold family. The farmland was sold by a Greswolde descendant in 1896 to the Freehold Land Society, one of the earliest building societies founded in 1848. The farmhouse was demolished by 1897.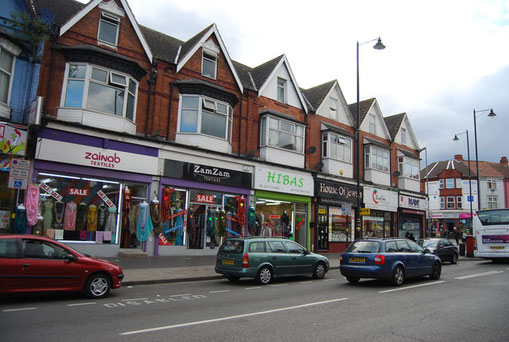 There was in 1834 was a hamlet identifiable as Sparkhill on the Stratford Road at Showell Green Lane junction. By 1888 there was new building on the Stratford Road at Stoney Lane and Durham Road and between the Stratford Road, Warwick Road and Baker Street. At that time this was beyond the Birmingham urban area and Sparkhill was still surrounded by countryside.
But by 1906 Sparkhill was almost entirely built up west of the River Cole with scattered development at Wake Green to the south and suburban Moseley to the west. There was still countryside beyond the River Cole as far as Acocks Green village and beyond.

Part of Sparkbrook and and all of Sparkhill lay within the manor of Yardley, but the focus of new building was well away from the ancient village centre.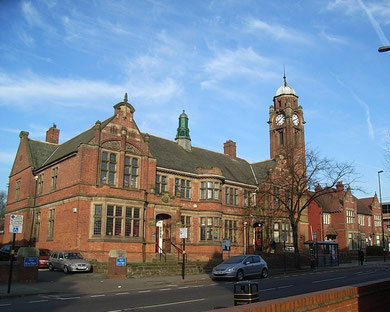 Take a look at Yardley Council House.
In 1900 Yardley Rural District Council had the Council House built on the Stratford Road at Court Road. Designed by Arthur Harrison in typical Birmingham red-brick and terracotta, it has an imposing clock tower in Aston Hall style. Stone panels by Birmingham School of Art teacher and artist Benjamin Creswick represent Knowledge holding a lamp, Justice blindfolded and holding scales and a sword, and History is shown writing. The fourth figure has not been identified.

There were offices for the general clerk, surveyors, rate collectors, sanitary inspector and medical officer of health. To the rear was a fire station, mortuary, caretaker's house and council depot with stables, cart sheds, wheelwright's shop and smithy. Yardley RDC met here until 1912 when the decision was made to amalgamate with Birmingham.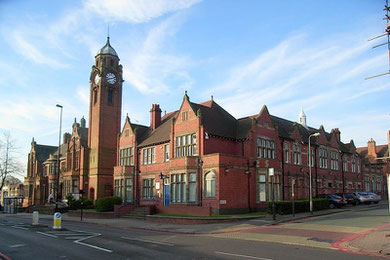 Yardley Council Chamber and committee rooms on the first floor were converted into a library, now Sparkhill Library and opened 19 January 1923 with the children's section downstairs. The library has an open timber roof and retains many original features, including art nouveau door-handles and a patterned encaustic tile floor in the main corridor.
The Children's Room extension with its Scandinavian wooden ceiling was opened by Roy Hattersley MP in 1987. Sparkhill Police Station and Court which stand adjacent now house the West Midlands Police Museum.
Sparkhill Park opened by Yardley Rural District Council covering some 8 hectares was laid out on the medieval Heyne (High) Field in 1904. Sparkhill Baths were built in 1931.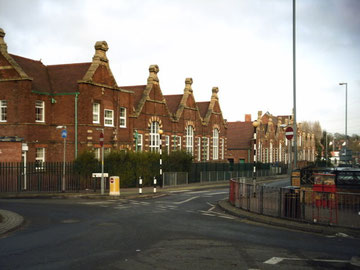 On the Stratford Road opposite Avondale Road, Sparkhill Church School opened in 1856 in a large house, which was extended in 1860. By 1865 there were two schoolrooms with one schoolmistress. A new girls' and infants' department was built in 1884 on the same site with two schoolrooms and two classrooms to accommodate 515 pupils. Eight years later a new infant department was built and, as numbers continued to grow, the school was further enlarged eight years later.
In 1947 the school was reorganised for juniors and infants only and enlarged yet again. It became St John's Aided Church of England Primary School in 1951. The 1884 building was rebuilt in 1991 with accommodation for 420 pupils and a nursery class. 
As the built-up area expanded outwards, the College Road Board School was opened 1900 by the Yardley School Board at the junction of College Road and Springfield Road with accommodation for 1130 pupils and a cookery centre. The school was enlarged in 1905 but by 1932 the hall was being used to accommodate eighty children. In 1934 the school was reorganised into departments for seniors, juniors and infants, the seniors becoming a separate school 1945. In 1955 a new secondary school was built further up College Road. The schools are now Springfield Primary and Moseley Secondary schools.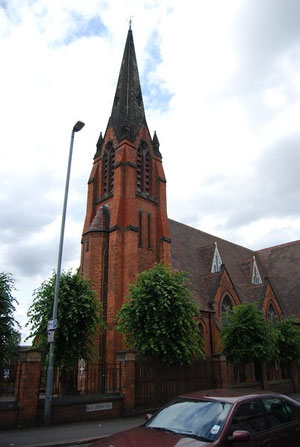 Take a look. Standing prominently on the Stratford Road at St Johns Road is the church of St John the Evangelist, one of many public buildings in Birmingham to be designed by the Martin & Chamberlain partnership. This Grade II Listed church is built in red brick with terracotta dressings in early English gothic style.
Consecrated in 1889, the building was enlarged in 1895 and a spire was added in 1905. The single bell was then replaced by a set of eight tubular bells which are struck by hammers and played from a roped manual on the first floor of the tower. The bells were almost certainly by Harrington, Latham & Co of Coventry. They were overhauled in 1925, 1966 and 1978. Behind the altar is a reredos donated by Louisa Ann Ryland.
The English Martyrs' Roman Catholic Church in Evelyn Road is a later addition to the district. Replacing a mission church of 1908, it opened in 1923, but was not consecrated until 1946. The church is in Italian romanesque style, built in red-brick with small round-arched windows and three shallow apses at the east end.  A bell by Barwell of Birmingham of 1913 hung in the square south-western tower. This was scrapped when a chime of eight was hung. The bells are sounded from a baton clavier by carillon-type clappers. The mechanics were refurbished by Taylors in 1990.

By the 20th century, Sparkhill was entirely built up largely with long rows of terraced houses. It was an area heavily populated by Irish immmigrants and their descendants hence the opening of the English Martyrs Roman Catholic Church. By the middle of the century immigrants from the Caribbean and from the South Asian sub-continent found their way here. More recently refugees from the troubles in Somalia have made it their home.
William Dargue 07.03.09/ 09.01.2021