Shipton, New Shipton
B76 - Grid reference SP134943
Shippton: first record 1472; Newshipton 1525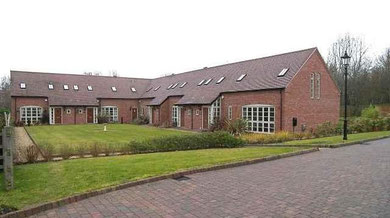 A  medieval survival in Walmley is the barn of New Shipton Farm, which is Grade II* Listed and a rare Birmingham cruck-framed building. The barn has five pairs of oak crucks which have been dendrochronologically dated to the spring or summer of 1425. The farmhouse itself dates from the 17th century and presumably replaced (Old) Shipton Farm.
A prestige housing development around the farm began in 2005, as part of which the barn was converted into offices, and the farmhouse and outbuildings into a variety of dwellings.

The name may derive from the Anglo-Saxon, sceap tun, 'sheep farm', or it may have a later medieval date. The keeping of sheep was part of a mixed agricultural economy in this woodland pasture area of the west Midlands, which included keeping cattle as well as the growing of vegetables and cereals.

See Walmley.
William Dargue 09.03.09/ 26.07.2015