William Dargue  A History of BIRMINGHAM Places & Placenames from A to Y
Saltbox
B44 - Grid reference SP071954
Saltbox was a hamlet off Queslett Road, around the present junction of Lambeth Road and Sundridge Road. It may date from the enclosure of Perry Common in 1814. Saltbox is shown on the 1921 Ordnance Survey map but must have disappeared shortly afterwards with the building of the Kettlehouse estate in 1928. (See Kingstanding.)
The name is of uncertain origin but is found as a farm or hamlet name across the country. A saltbox was a rectangular wooden container which was hung on the wall usually near the fire to keep the salt dry. They often had a sloping lid. From this derived the name of a building, presumably of English origin, but popular in the eastern states of the USA from the time of the early colonialists. A saltbox house, usually made of wood, has two storeys at the front and a single story at the back with a long sloping roof which resembles the hinged lid of a saltbox. The reason for this design is obscure. However, it probably derives from a standard two-storey house, which was extended, perhaps as the family grew, by the simple addition of a lean-to on the rear of the house whose roof was an extension of the original.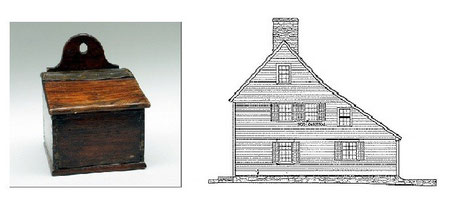 Left: A Victorian saltbox. Image from Leeds Museums & Galleries on Flickr reusable under Creative Commons licence Attribution-NonCommercial 2.0 Generic (CC BY-NC 2.0)
Right: Comfort Starr House, Connecticut, the oldest wooden timber frame house still used as a private residence in the USA. Image from Wikipedia - reuse permitted.
William Dargue 07.06.2012