Sycamore Hill
B21 - Grid reference SP041895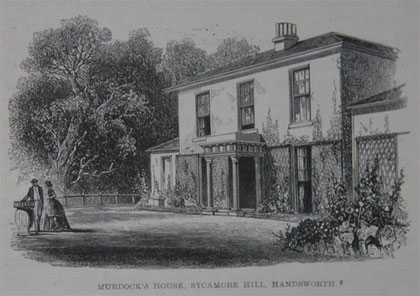 Close to the Soho Manufactory, engineer, William Murdock had a neo-classical house built on Sycamore Hill in 1817. He lived there until his death at the age of 85 in 1839. Fair Hill, as Murdock called it, or Sycamore Hill House stood in extensive grounds on a high point of the hill on a site now occupied by Murdock Grove. Lying to the south was an old farm, Sycamore Farm.
This was a rural area popular with wealthy industrialists from the late 18th century. However, prompted by the building of the Birmingham, Wolverhampton & Dudley Railway and the opening of Handsworth Station in 1854 the estates of the large houses were sold for the development of large middle-class villas.
By the end of the century most of the large houses had been demolished and their sites in-filled with much poorer quality housing. Murdock's house was used c1900 for builders' stores as the area was built up.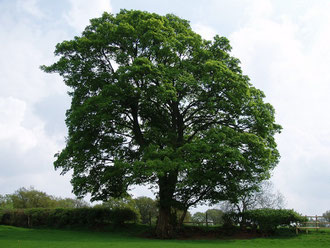 Sycamore trees are not native to Britain and may have been introduced in Roman times. Although of southern European origin, they are a mountain species and will tolerate cold winters and exposed sites. Widely introduced into the parks of the landed gentry in the 17th century, sycamore seeds spread so readily that it had become naturalised by the 18th century.

The origin of the name of this tree, the acer pseudoplatanus, appears to derive from the relatively recent introduction of the tree, probably unnamed at that time, and the simultaneous publication in English of the King James Bible in 1611. The 'sycomore' is mentioned in a number of books of the Bible, notably in the New Testament story of Zaccheus:
And Jesus entered and passed through Jericho. And, behold, there was a man named Zacchaeus, which was the chief among the publicans, and he was rich. And he sought to see Jesus who he was; and could not for the press, because he was little of stature. And he ran before, and climbed up into a sycomore tree to see him: for he was to pass that way.
King James Authorised Version of the Bible 1611 Luke 19

The name of the Biblical sycomore is from the Greek name for a type of Middle Eastern fig, ficus sycomorus, which bears no resemblance to the imported European sycamore, acer pseudoplatanus. However, the popular mind associated the two and the misnomer has stayed with us ever since.

In an early photograph of Sycamore Hill c1900 the farmhouse is seen surrounded by trees, surely sycamores.
See also Soho.